*This post may contain affiliate links, which means that I may receive a commission if you make a purchase using these links.
Right before we went on vacation the temperature was dropping and it was starting to feel like fall. When we came back from vacation the weather did a complete 180 and it was hotter than hot again.
Fall is my absolute favorite season. From the crisp, cool breezes, the beautiful changing leaves, and all the baking, what's not to love?
The problem with the fall season is that it always feels too short. Take advantage of the cooler weather and enjoy this list of my favorite fall activities.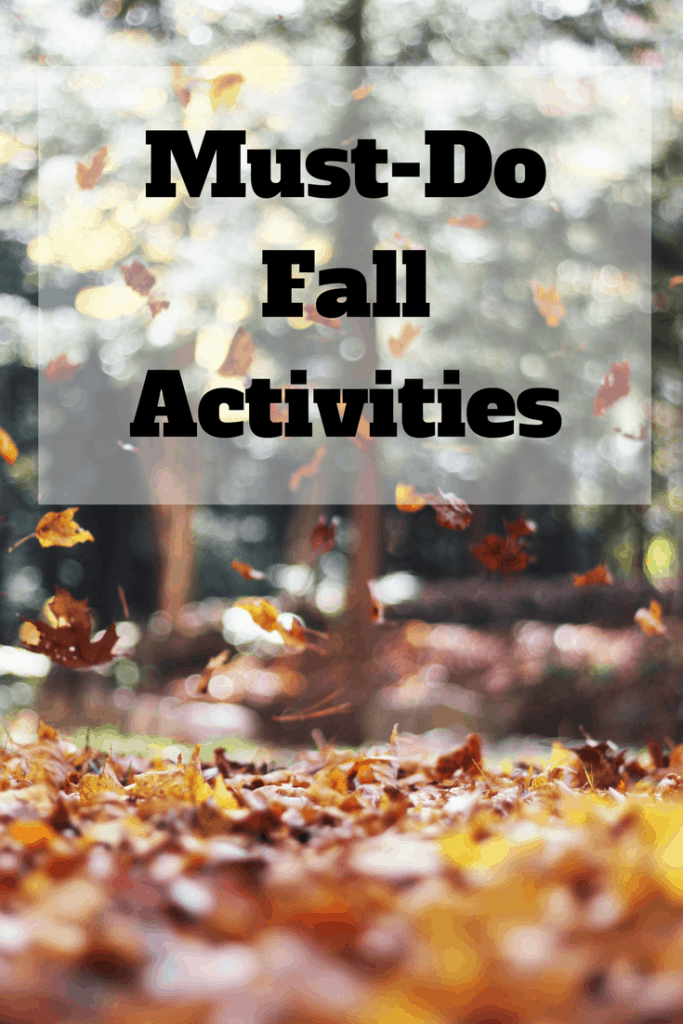 1) Apple/orchard picking
Walking around orchards picking fresh fruit is so much fun. In the New York/New Jersey area you can still pick blueberries and peaches. Apples are just starting to come in. My husband and the kids went to an orchard not too far from our house to pick apples, grapes, and brought me home the most delicious apple cider donuts.
I love the variety of apples there are to pick. There's Fuji, Gala, Rome, Golden Delicious, Granny Smith, the list goes on and on. Use your fresh picked apples to make apple cider, fresh apple pie, apple butter, apple sauce, or just sliced apples with peanut butter.
I plan on making caramel apples in the next few days. You can use premade caramel that comes in a brick, or you make your own caramel sauce to dip your apples with this recipe, or just melt caramel candies to dip your apples in.
Head to this website http://www.pickyourown.org and select your state to get a list of u-pick farms near you.
2) Pumpkin picking/decorating/carving
Pumpkins are so much fun to pick. Once it gets closer to Halloween a lot of farms will have pumpkin patches to pick from. They often offer hayrides, corn mazes, and other fall fun activities or foods.
Once you pick your pumpkins there are so many things you can do with them. You can place them at the entrance of your house with gourds and corn for a nice fall centerpiece. Paint them with acrylic paints to make them look festive. Lastly, carve out your own stencil designs or use a cheap kit that comes with stencils and carving tools.
3) Camping
Look up some campgrounds where you can go to enjoy the scenery of changing leaves and outdoor activities.
You don't have to go far to go camping. Just pitching a tent in the backyard and having a small fire pit to roast marshmallows for s'mores can be fun.
Either way make sure you bring your bug spray, mosquito repellent bracelet, snacks, sleeping bag, tent, and first-aid kit.
4) Cooking cold weather foods
There are some foods that just taste better in the cooler months. To me these include soups, stews, chili, lasagna, meatloaf, and casseroles. What I love about most of these recipes is you can make big batches of them and store in smaller portions in the freezer. Also, it's a good way to warm up the house.
5) Baking
I love baking year round, but usually cut back in the heat of summer. In the fall I'm a baking machine. I like making cookies (to figure out which recipes I want to use for the holidays), caramel popcorn, pies, sticky buns, cobblers, and any pumpkin flavored desserts.
6) Knit/Crochet
Knitting and crocheting are great past times for the cooler months. The most simple thing to make are scarves and blankets. Get creative with patterns or the yarn you use and you can make some beautiful handmade holiday gifts.
7) Hiking
Go to a local park to walk or hike the trails. Get your exercise while enjoying everything mother nature has to offer. We went for a walk with the kids at a park with a giant lake full of kayakers and fishermen.
8) Outdoor activities/sports
My husband and I love fishing and clamming. Even if we don't catch anything we get to enjoy the cooler weather.
Maybe you're into hunting, gardening, kayaking.
Look in your local newspaper or town website for street fairs. They have entertainment, music, vendors, food. etc.
9) Plan a picnic
I saved the best for last! This is my favorite fall activity because you can combine a bunch of fall activities. Pack up a basket full of your favorite food, desserts, drinks, a blanket and head to a park. Relax and enjoy eating outdoors. This can be done in the summer, but I prefer the fall when the weather is more comfortable and I'm not sweating.
If you're going with a few people, bring along some board games and/or outdoor game sets like badminton, ball toss, horseshoe, cornhole, etc.
Hope you enjoyed my list of fall activities. What are some other fun activities do you especially like to do in the fall? Extra points for activities that are free/cheap and great to do with kids!