* This post may contain affiliate links, which means that I may receive a commission if you make a purchase using these links.
One easy and effective way to get extra cash to save or pay off your debt faster without having to side hustle is by changing your spending habits. As in, stop buying things.
This could save you a few hundred dollars a year, possibly more.
This year we have a few things we stopped buying to save money. However, do NOT make this ONE REALLY BIG MISTAKE when you do.
Like other bills we've reduced or paid off, you should be taking that amount and putting it towards another bill or into savings. It's a mental game.
For example, we paid off our car loan last year which was approximately $300 a month. We then pay an extra $300 a month towards another debt.



The amount you save will obviously vary, but even if you estimate and save $100 a month on things you stop buying to save money you'll have $1,200 for savings or debt payoff. That's a good chunk of change.
THINGS WE STOPPED BUYING TO SAVE MONEY
BOOKS
There are so many FREE resources to get reading material. We aren't really bookworms, but since I'm trying to increase my investing knowledge for the New Year the library has become my new best friend.
Some libraries are better stocked than others, but they can order books based on request if they have the budget. So if there's a particular book you want ask, they may be able to get it for you.
Google the book you're looking for to see if there are any free/cheap versions of what you want. I just found a FREE version of the book The Millionaire Next Door if you're interested in reading it.
I also use my survey cash if there's a book I really want to have a physical copy of.
SUBSCRIPTIONS
I had several subscriptions for different magazines. Some I got because I kept getting exclusive offers that are given to everyone 😉 while others I got because they offered free gifts or extra years. Hint: These are just to sucker you in, which I was.
I used to have one that was $10 for the whole year, but once the price went up I dropped them.
I'm not saying you should cancel all your subscriptions, especially if you enjoy them. But, if you're looking to save some extra cash fast this is a good place to start.
I've found that lots of times when I canceled my subscriptions better offers for the same magazine came in the mail a few months later.
Other subscriptions to look at: radio, computer software, etc.



SHAMPOO/CONDITIONER/TOILETRIES
Okay before you freak out, no these aren't things that I won't ever buy again.
Last year and the beginning of this year I did a boatload of surveys where I was sent warehouse sized bottles of shampoo and conditioner to test for free. Some surveys sent trial sizes too, but trust me there's a lot. I have enough to last me the rest of this year and then some.
I also got to do a few surveys for deodorant and have multiple brands and scents stored in our bathroom cabinets.
PAPER TOWELS/NAPKINS
This is a little tougher, but I don't sweat it as much since it's not as expensive as the other things we stopped buying to save money.
Instead of using paper towels to dry our hands or clean we use towels.
It's easy to grab the paper towels when they're there so I (hide them from my husband) try to keep them in the closet.
Napkins aren't expensive, but when you have kids and a husband who uses an abnormal amount it adds up. We have cloth napkins which we never used before that I brought out. They make me feel like I'm at a fancy restaurant lol.
PHONE APPS
The app store is full of fun games to play and apps to make life easier. The good news, there's usually a free version. There was one I had when pregnant with both my kids that I loved.
My husband has a few games that he's purchased on his phone, but recently stopped. Not because he knows it's a waste of money, but also because his account was recently hacked. That's right hacked!
I noticed an almost $300 charge to our credit card from the app store for games. I nicely mentioned it to the hubby while secretly fuming. Turns out he had bought a game for $9.99, but all of the additional charges were fraud. It then happened again, but with another credit card my husband has on file on his phone. We are currently sorting it out with the app store and our credit cards.
Tip: If you make purchases on your phone or anywhere else online do not store your credit card information. Regularly check your credit card bills each month to make sure you're charged the right amount. By doing this I caught on to the fact that we were the victims of account hacking.



GYM MEMBERSHIP
Hahahahaha…okay it's not that funny. We've contemplated joining a gym with all of the "good" New Year's deals, but opted not to.
Once the weather warms up we are going to go for walks in the neighborhood and runs in the park.
Why waste our money on a gym membership we'll barely use when we can exercise at home at our convenience for free. YouTube has thousands of free workout videos to follow along with that you can check out.
NEW TOYS
My kids have more toys than they need, but for some reason are happy with paper, crayons, and giant boxes. I'm told they'll grow out of that eventually so I'm enjoying it now.
I don't buy my kids new toys because everyone else does. They get toys for birthdays, holidays, and just because.
I recently brought home a huge bag of toys for them that was on a neighbor's curb marked free. My kids freaked out. They were all in like new condition.
If you plan to stop buying new toys to save money you can try selling the ones your kids no longer play with at one of the places we are using to sell our way out of debt. We believe in paying it forward so most of the time we donate their toys or give them to someone who could use them.
So far for every holiday or birthday I've put money into my kids' savings accounts instead of buying big gifts. I hope to save enough for some college payments in the future.
GARBAGE BAGS
I never realized how expensive garbage bags are. It seems silly to spend money on something that you know needs to be dumped out. However, I've had my fair share of garbage bag blowouts to know there is a difference in quality and price.
Through one of our side hustles we came across a lot of boxes of garbage bags. We paid very cheap for the lot and instead of selling them, we are using them for ourselves.
Prior to this I also used plastic grocery bags instead of garbage bags. You obviously can't fit as much garbage in them, but they did help cut down on the amount of garbage bags we used.
NEW CARS
Rich people don't buy brand new cars because they know the minute the car drives off the dealership lot it's value decreases significantly.
I'm not rich, but I know enough to know it's never worth it to buy a brand new car.
Last month we bought a van for our side hustles and a car to replace the mini van, both in cash. We were able to do this because we had money in savings AND both cars were used with a good amount of mileage on both.
LUNCH AT WORK
There's always someone at work ordering food for lunch/dinner. $15 here and $20 there adds up very quickly.
We've stopped buying lunch out to save money. I try my best to meal prep and brown bag our lunches. This is both cheaper, tastier, and healthier.
We reserve eat-out days for co workers birthdays and special occasions.



LOTTO TICKETS/GAMBLING
I am one of the most unlucky people when it comes to giveaways and gambling. For me it's like throwing money into the trash.
Studies have found that lottery sales are highest in poor neighborhoods, which speaks volumes. We all dream of the possibility of living a life of luxury.
Not buying lottery tickets won't make us millionaires, but by taking that money and investing it or buying more things to turn for a profit we'd be guaranteed money rather than depending on luck.
BOTTLED ICED TEA/BEVERAGES
I make my own iced tea or infused waters every day. It's cheaper and I can control the sweetness level. My kids love it too.
We only buy bottled water to have in the house for road trips and other outings.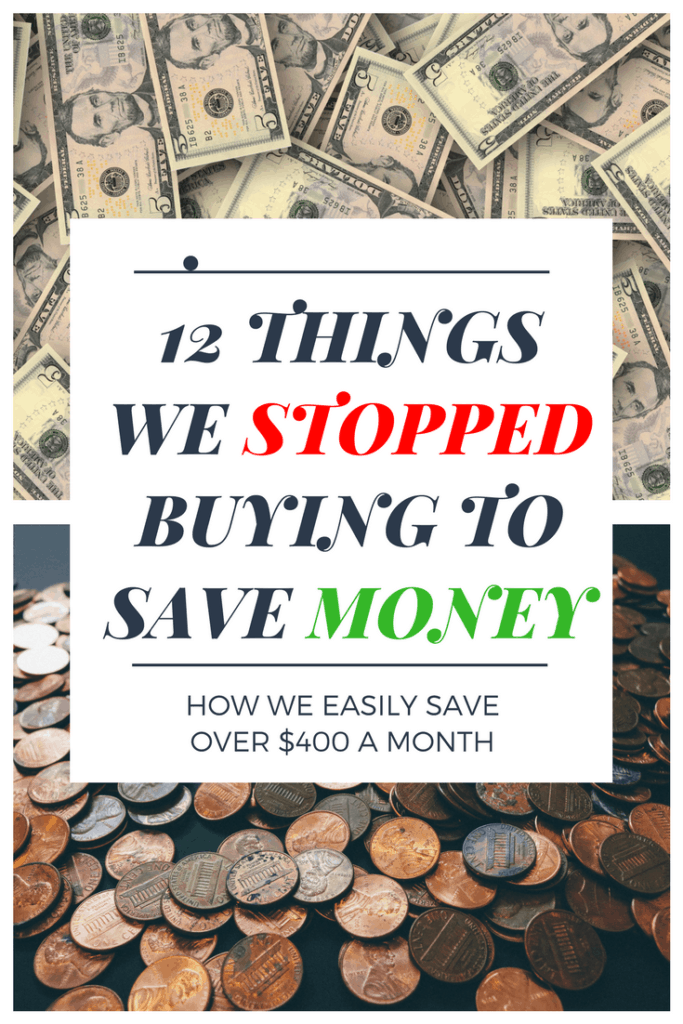 Combining the costs of all the things we stopped buying to save money adds up to roughly $400 a month. Because we are still paying off our credit card debt, our savings account does not accurately reflect this number. However, it is an eye opening realization how much money we can save just by cutting back on our spending.
Once our debts are paid off we are going to build up our emergency fund, start investing, and tackling our mortgage payments.
Lesson: Do not let the money you save get lost in your bank account only to be wasted somewhere else. Automate that amount to go towards another bill or into savings.
What have you stopped buying to save money?