* This post may contain affiliate links, which means that I may receive a commission if you make a purchase using these links.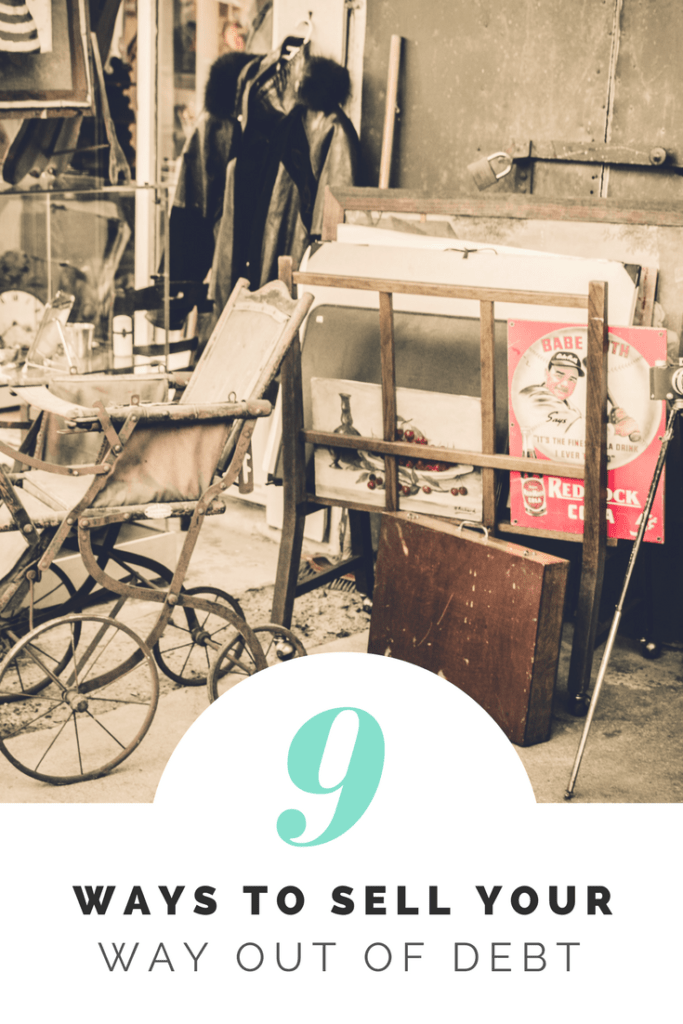 My husband and I have been pushing extra hard to be debt-free.
We have cut our grocery and heating bills down. We will also be cutting our cell phone bill once my phone is out of contract.
Eventually there comes a point where you can't cut your bills any more. Maybe you don't want to and that's okay. No judgment here.



Because we want to be out of debt ASAP we have been side hustling extra hard. Unlike passive income, side hustles can involve a little more time and work.
You can do anything from selling your sperm/eggs, babysitting, making baked goods, online tutoring, to walking dogs.
In this post I'm going to focus on our main side hustle of selling new and used items on various venues along with the pros and cons of each.
These are the ways we are selling our way out of debt.



SELLING ON EBAY
eBay is a competitive online marketplace to sell all kinds of items. You can create auctions or set prices for consumers to buy an item right now. The key is to build up your positive feedback. You do this by answering customer's questions, shipping packages quickly, and giving accurate product descriptions.
You can sell items you have in your home, ones you pick up from garage sales/thrift stores, or items you can buy and resell for a profit.
We've sold clothes, glassware (we only do it if the profit is high enough because dealing with fragile items is a pain), books, gaming consoles, toys, miscellaneous knick-knacks, a car, etc.
Pros:
You can sell all types of new and used items.
You can potentially make more money because people from all over the world can see your listings.
eBay gives sellers a percent back on items they sell in the form of eBay Bucks.
Cons:
eBay fees.
High shipping costs can cut into profits. We purchased an electronic scale to give more accurate weight descriptions. Don't forget to add in the weight of packing materials.
Dealing with difficult/hard to please customers.
Fear of getting negative feedback.
One time we sold a pair of lightly used sneakers. The buyer didn't pay right away, but by the time they did it was late on a Saturday. It was a holiday weekend so the sneakers couldn't be shipped until Tuesday.
The buyer emailed me multiple times asking when they would receive the sneakers and that if it wasn't soon they no longer wanted them. I explained that they were shipped and would receive the sneakers within the timeframe granted by eBay.
Long story short, they received their sneakers and didn't leave any feedback.
You can do everything right and still get someone who leaves you a negative review. This affects your seller score, which is a big deal because it can deter people from buying from you.
Don't get frustrated. Just focus on communicating with your customers, shipping fast, and describing items accurately. Negative feedback isn't a big deal as long as you have a good amount of positive feedback.
eBay is our main venue for selling our way out of debt. We use our monthly profit to help pay our current credit card bill and anything extra goes towards paying our consolidated credit card debt.
SELLING ON AMAZON
If you don't know what Amazon is where have you been?! lol Just kidding. Amazon is also another online marketplace that offers super fast shipping. It is a great place to sell new items. You can sell used too, but should check the market for similar items to see how well they're selling.
Pros:
Almost EVERYONE knows what Amazon is, which makes them a reputable place to sell.
Better quality buyers.
New items sell very well.
Having Amazon fulfill your orders for you saves a lot of time and tends to sell better. More of a "set it and forget it" method.
Cons:
Used items don't sell very well.
If you want to sell your items on your own, it can be hard to compete with Amazon's Prime shipping.
Having Amazon fulfill your orders can be pricey. If your items don't sell you need to pay Amazon a monthly storage fee until it does sell.



My husband was very much against fulfillment by Amazon because of the amount of profit their fees cut into until recently. As much as they charge you there are a lot of pros. Items sell much faster with Prime, we don't have to worry about packaging or shipping. This is a great option if the product is a good seller and we've paid cheap enough for the item.
Once we started shipping our product to Amazon we began seeing an increase in sales. Hoping this keeps up so we can make bigger payments towards our debt.
SELLING ON CRAIGSLIST
Craigslist is a site where people can advertise everything from items they want to sell, jobs, personal ads, and events.
Pros:
It's free for anyone to use.
Good place to get rid of big/heavy items and not deter people with high shipping costs.
Cons:
Anyone can use Craigslist, which means there are a lot of scammers and flakes (no shows).
We've sold a few things on Craigslist. Each time we've met at a public place or the parking lot of our local police station. This makes both us and the buyer feel more comfortable. Set up specific times to meet and make sure they confirm the day before so you aren't hanging around all day.
Not the top way we are selling our way out of debt, but since it's free we post every now and then.
SELLING ON FACEBOOK MARKETPLACE
Pros:
Free.
You can see the picture and profile of the person buying your items beforehand and gauge creepiness level.
Multiple forms of payments can be made before meeting up with the buyer.
Cons:
Not all items sell well on Facebook. Good for household items, cars, appliances, etc.
Nosy friends and family can see what you're selling.
We've used Facebook Marketplace a few times. You need to keep posting your items every few days because it's easy for your listings to get lost in the mix. Not the most consistent place to sell for us, but because it's free we list there occasionally.
CONSIGNMENT SHOP
Pros:
Can get a higher profit on specific items.
Drop off items and wait for check/cash to come in.
Cons:
Have a max number of items you can bring at a time.
Commission fee.
Many shops have specific rules. Only seasonal items, brand name items, or like new condition.
We have one consignment shop where we sell kid's clothing and toys. We get anywhere from $50-$100 a month.



FLEA MARKET
Pros:
Haggle with people in person to get the most money for your items.
Sell items you might not sell anywhere else. Lots of used items, garden tools, clothing, etc.
Cons:
You need to pay for your spot/tables.
Weather permitting.
Lots of frugal people that will try to talk you down.
Competitive prices.
There are a lot of interesting people at the flea market. Because you are competing with so many vendors you need to have good prices/items people want. Location of your spot can make a big difference in how much money you make too.
GARAGE SALE
Pros:
Convenience of selling at your home.
Lots of places to advertise for free.
Get neighbors to have garage sales the same day to gain more traffic and assist with advertising.
Cons:
Weather permitting.
Lots of strangers showing up at your house.
Parking.
Neighbors may get annoyed about people parking in front of their house.
Some towns require you get a permit.
We've only done a few garage sales, but always do decent because of how we advertise. We post on Craiglist, free garage sale websites, and multiple Facebook groups. Then the main thing to do is the proper signage. I don't know how many times I see signs for garage sales that don't have dates, don't have arrows, and are in the smallest print possible. If you have a garage sale buy neon colored poster board and using a thick black marker write as big as possible: your address, date(s) of the garage sale, and an arrow pointing towards your home.
MaxSold is a company that assists in selling your items through an online auction. Think of it as if a garage sale and eBay had a baby. You place photos of the items you want to sell online. You can sell your items in lots or individually. People bid on your items and when the auction is over they pick up their items on a set day.
Pros:
People pay for their items electronically before they come pick them up from your house.
Marketing is included in commission fee.
No up-front fees, you get charged after the auction is over.
MaxSold can take care of everything for you. They can have people come to your home to take photos, put up the listings, and handle pickup for a fee.
Excellent customer service.
You can save money by taking the photos and doing the listings yourself.
Cons:
Items may sell for less than you like and there's no way to put a reserve.
Auction works best when you have a lot of items or high end items.
Time consuming doing everything by yourself.
We've sold on MaxSold a few times and their customer service is superb. They are great at answering questions and getting you started. Now that we have the hang of it it's so much easier than having a garage sale. We only use MaxSold when we have a lot of items to sell. After the auction is over they give you a list of who bought what items. We then group the items together for easy pickup.
AUCTION HOUSE
Pros:
Drop off items and you're done.
Get more money for antiques, furniture, collectibles, etc.
Cons:
Commission fee.
Not all types of items sell well at an auction house.
Some auction houses charge disposal fees for items that don't sell if you don't pick them up.
Find an auction house near you and call to find out their fees and what items sell best. We've done well selling furniture and glassware.



Selling our way out of debt hasn't been without its struggles. Figuring out which items to buy and sell takes learning through trial and error. Lucky for me I have a husband who started selling candy out of his red wagon at the young age of 8. We still make mistakes, but our debt is shriveling away thanks to this extra income.
If you want to sell items for extra money to pay off your debt start with items in your home that are unused/unwanted. Once you get experience and figure out where you like selling your items get more items. Buy from the store after the holidays/end of seasons, thrift stores, garage sales, etc.