*This post may contain affiliate links, which means that I may receive a commission if you make a purchase using these links.
Everyone wants to find the next get rich quick scheme idea. Unfortunately, there are a lot are scams or ones that are too good to be true.
As my husband and I get closer to being out of debt, I want to find legit ways to continue making and saving money more efficiently for our kids' futures and our retirement.
I spent hours researching online and stumbled across passive income. Now, if you haven't heard about passive income, it's a way to make cash flow steadily with little to no effort once it has been properly set up.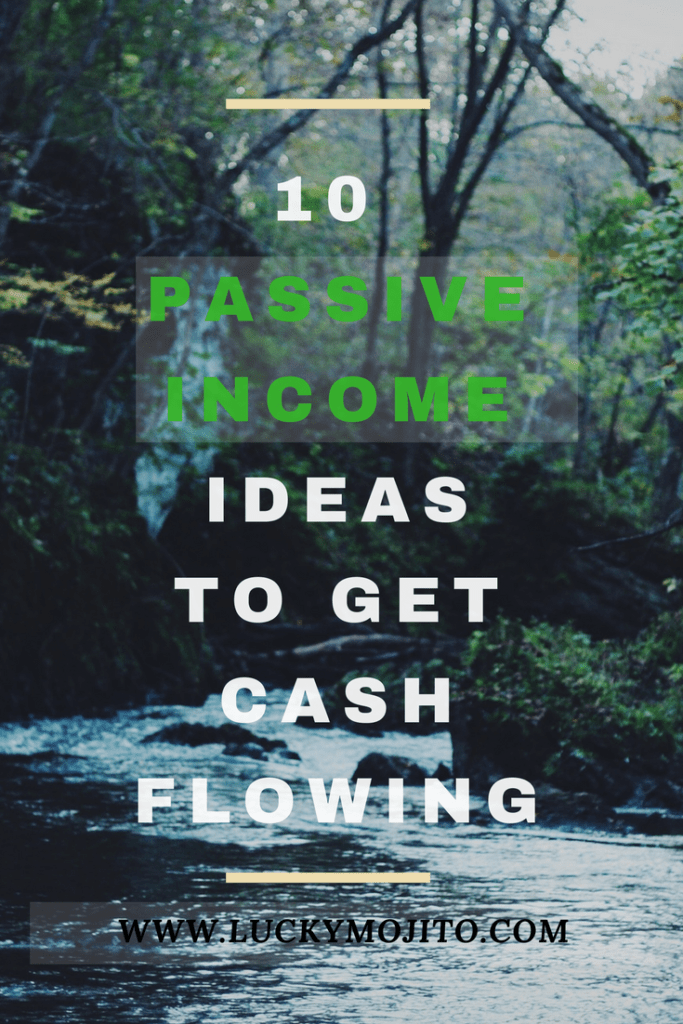 Here is the list of passive income ideas I came up with that require little to no risk.
1) Credit Card Rewards
There are so many credit cards vying for YOUR business. To stay competitive they will offer you anything from sign-on bonuses, points, cash back, discounts, and low APR's.
The credit cards I use now are ones that offer cash back/points on categories I spend the most on such as food, gas, and travel. I get back a hundreds of dollars each year that I either save to pay for our vacations or put towards the credit card balance.
I only recommend this passive income idea as long as you pay your monthly balance in full each month. If you don't you'll be paying interest each month and that would defeat the purpose.
The two cards I use the most are my American Express Blue Cash Preferred Card because they offered me a great sign-on bonus and the highest percent cash back on gas and food, which is where a lot of my spending goes. This card is the ONLY card I ever signed up for that charges an annual fee. The reason is because the sign-on bonus and higher cash back categories outweigh the fee.
I was recently charged a late fee on my American Express Blue Cash Preferred Card for 2 months because I forgot about the small balance I owed on it. I simply called customer service and they waived both late fees because I am always in good standing. Great customer service is a huge plus!
The other card I use is my Chase Freedom Card. This card has NO annual fee. Use my link here and you earn a $150 sign-up bonus if you spend just $500 within the first 3 months of opening your card. I get 1% cash back on all categories and each quarter there are different categories where you get 5% cash back. I used their balance transfer service to combine all of our credit card debt for a small fee and NO interest for 18 months. Doing this alone has saved us thousands of dollars in interest.
2) Surveys
See my post here for the full list of survey sites I use. Many survey sites offer a variety of ways to earn points, gift cards, and rewards through their web portal. It can be through surveys, shopping, even playing games.
This isn't the most lucrative passive income idea, but is something to do while waiting in line or watching tv.
3) Cashback sites
Every month we get a minimum of a $50 check on the mail. Ebates is set up on our computer browser so that whenever we make an online purchase it will give us cash back if it's available. I have no clue why anyone wouldn't do this. It's FREE and once you have your account set up you don't have to do anything.
If you do just ONE of the passive income ideas on this list do this. Click here to sign up.
4) High Yield Online Savings Account
If you want a savings account with higher than average interest rates, a high yield online savings account is the way to go. I am currently saving money for my kids in a Capital One 360 Money Market Account. An online savings account can offer higher interest rates than your local banks because they don't have the overhead fees of a physical bank location.
There are a few other online banks with slightly higher rates, but I wanted to choose a bank that I could access in person if needed and one with a name I was familiar with. Most of these banks FDIC insure your deposits up to a certain amount.
I've had the Capital One Money Market Account for less than a year and twice they have automatically increased my interest rate. They also gave me a $200 sign on bonus.
This is a great passive income idea for money you are already saving.
5) Start a Blog
It only costs $2.65 a month to start a blog if you use my link here combined with Ebates which is currently giving a $10 off promotion.
There are bloggers making anywhere from $100 a month to $90,000 a month!
The initial setup and learning the ins and outs of blogging is what takes the most time. Setting up the proper social media platforms, sponsorships, and affiliate programs, oh and creating original content that people want to read about.
A blog is definitely not for the impatient, but once set up it can bring in a significant amount of income. I wanted to set my blog up for making money right away and chose to take this 30 Day Blogging Fast Track Course. I started making money less than 3 months into blogging, but currently not enough to cover expenses.
6) Rental property
Real estate is a great way to earn extra passive income each month. You can rent it out monthly, weekly, or even daily and can charge more during the holidays.
Consider renting out your property through Airbnb or go through a real estate agent, which is what we did with our condo. Compare fees and see what services they include such as the paperwork and background checks.
If you don't have property to rent out, consider renting out any extra bedrooms you may have or your garage/shed for people to use as a temporary, more affordable storage unit.
7) Rent out items you already own
Items you can rent out can range anywhere from your backyard for parties, your car, lawn equipment, pressure washer, snow blower, electronics, furniture, etc. Use your imagination and look around your house for any items collecting dust.
8) Referral bonuses
I use several sites and apps that give me cash back and save me money each month. I use iBotta, an app that saves me money on my groceries. You select the coupons you want to use and send a photo of your qualifying receipt. What I love about this app is you can join a team. Click this link to join my team and earn cash faster from me and other team members.
See this post on other cash back apps and sites I also use.
9) Sell your knowledge
What are you an expert at? Can you create delicious recipes, patterns for knitting/crocheting, teach others how to fix cars, create graphic art, etc.?
Compile your knowledge into an e-book. Yes this can be time-consuming, but once done it's something that you can keep on selling.
If you are artistic try to sell your patterns as a digital download on Etsy. If you create an e-book you can publish and sell it on Amazon. If you are tech-savvy head to Fiverr and sell your services there.
10) Sell unwanted items
Look through your house for any items you no longer need and sell them. There are a variety of venues to sell them. The ones I've used are Maxxsold, Craigslist, Facebook, eBay, and some consignment shops.
Once you have your items listed just sit back and wait to get paid. Each venue has different pros and cons.
Maxxsold is a mix between an online garage sale and auction. People pay ahead of time for the items they've one, then come to your house to pick their items. They charge a high commission, but it covers insurance and advertising. I like this better than a garage sale because there's no haggling and it's great for selling large items that you don't want to ship. You can also sell your items in lots of your choosing.
Craigslist is a good way to sell items, but you have to deal with a lot of strange people and no shows. The good thing is you don't pay any fees, but it takes a lot more time to sell items in my opinion. Facebook is the same way, but they do have an option now where people can pay ahead of time or leave a deposit.
I've sold a lot of baby and kid's items at a consignment shop by my house. Some will buy your items upfront while other's will take a percent commission of each item sold. The pros is that once you drop off the items you don't have to do anything else, but wait to collect your cash. The cons is there are usually limits to the number of items you can drop off, they may only accept season specific items, and the commission fee they take out may be high. Do your research. By me some shops only want name brand or very new items.
Whether you are out of debt or working your way to being debt-free, these passive income ideas are a great way to get additional cash flowing in. Try them out and see which ones are most effective for you.
For those of you already implementing passive income ideas in their life, ideas have worked best for you?