*This post may contain affiliate links, which means that I may receive a commission if you make a purchase using these links.
How much do you spend on groceries each month?
When I started evaluating my family's finances, one of the biggest expenses we had besides the mortgage, was our grocery bill. Not our car payment, not our gas bill, but food!!
My husband did most of the food shopping at the time and when he told me we spent about $800 a month on groceries I almost fell out of my chair.
Our daughter is 3 and our son is 1 and although we buy foods specifically for them, it definitely shouldn't cost hundreds of dollars.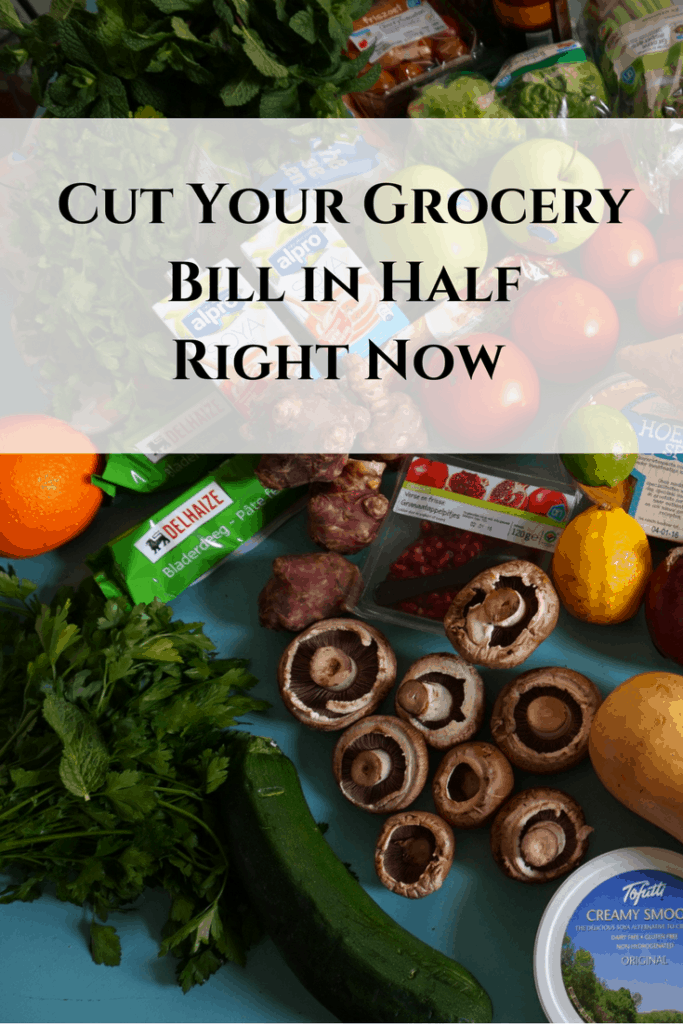 Here are the things I did that helped us cut our grocery bill in half that you can do right now. And no, you don't have to live on cereal and pasta.
1) Stock up/buy items when they are on sale
Our pantry always has pasta, cereal, canned goods, oatmeal, pancake mix, canned tomatoes, and sauces. Try to keep items like these that are both shelf-stable and versatile on hand.
Last year, after Halloween, I was able to stock up on liquid hand soap at 25 cents a piece. At retail price they normally run around the $1.50 range.
When you see an item on sale try to purchase enough to last you at least until it goes on sale again. You obviously don't want to purchase too much that it ends up expiring before you can use it all.
2) Shop carefully at wholesale clubs
When we were members of Costco we rarely left without spending at least $100. I often left wondering what we actually bought. Don't get me wrong, I loved the free samples, $1 churros, and cheap hot dogs, but what was our money getting us? We still needed to shop at the regular grocery store for the protein and produce we didn't get at Costco.
We are now members of BJ's Wholesale Club. They accept multiple coupons on multipack items and accept both manufacturer's and their own coupons. We get some really good deals there and also shop at our own grocery store for smaller portions. Remember, bigger isn't always better.
We do some of our shopping at the local farmer's market and the discount grocery store Aldi's, which offers generic brand goods at a much cheaper price. I'm not saying drive around town trying to find the best deals, because you'll just be wasting your time and gas, but if you happen to be in the area or checked their circulars ahead of time then by all means head there.
I'm too lazy for extreme couponing. I shop the sales and often time find deals that are even better than if I had used coupons.
I use iBotta, which is an app that has virtual coupons. You don't have to clip coupons and can get discounts AFTER you've already gone shopping. Just select the coupons that apply to your order and take a photo of the qualifying receipt. I love that they have coupons such as 25 cents off ANY item. Join my team using this link and we can help each other earn savings at a faster rate.
4) Don't go to the store as frequently
The best way to spend less money on groceries is to not go as often. This may sound like a no-brainer, but it works. We used to go shopping 1-2 times a week. I found myself buying things I didn't really need or things I thought were good deals.
We now go shopping every two to three weeks. We only go more often if we are having guests over, or run out of the perishables such as milk, bread, produce, or protein.
When we don't shop as frequently I get more creative with the foods I make and use more of what is in our pantry or freezer.
5) Compare stores
Like I briefly mentioned in tip #2, shop the sales at various stores, but don't drive around all over wasting gas and time. Check the ads and sales online before you go to the store. After a few times you'll learn which stores offer the best sales on which products. E.g., I buy my milk and yogurt from BJ's. I buy cheese from Aldi's.
6) Plan meals
This doesn't need to be anything complicated. Just sit and make a quick list of what you want to eat over the next two weeks. We like to buy rotisserie chicken because it can be eaten alone, made into a pot pie, chicken salad, or enchiladas. Try to come up with recipes that have similar ingredients so you aren't buying a little bit of a lot of ingredients.
7) Select your method of payment
I like to use our American Express Blue Cash Preferred credit card because it offers us 6% cash back on groceries. This means we were getting over $500 a year cash back. With our spending on groceries cut down, we still get a minimum of $300 cash back a year.
One way to cut back on your grocery spending and spending in general is to pay cash. This will make you more aware of how much you are spending each month. Allot yourself a certain amount to spend on groceries each week/month and once that amount runs out you will have to wait for it to be reset.
8) Don't stick to one brand
I see it all the time, people are creatures of habit. We get comfortable and like to do and buy the same things from the same places. Try different brands. The generic (aka cheaper) version of a product may surprise you.
Check the "international" aisle for better deals. In the baking aisle of my super market they have condensed milk. In the international food aisle they also have a different brand of condensed milk, but at a cheaper price. I've bought spices and nuts at cheaper prices this way.
By using a combination of all of these grocery bill saving tips my family and I have been able to save a few extra hundred dollars a month. We take what we save on our grocery bill each month and put that amount towards our debt and a little bit into our savings.
As a major foodie I understand the desire to spend money on delicious foods. I occasionally splurge on prosciutto, fresh mutz, Italian sandwich cookies, skirt steak…
How do you save or plan to save money on your grocery bill? Share your tips and tricks in the comments below!