*This post may contain affiliate links, which means that I may receive a commission if you make a purchase using these links.
Many years ago while strolling around Chinatown I stumbled across a tiny street cart vendor that had a small line forming in front of it. The sides of the cart were completely covered so you couldn't even see what was being sold. Upon further investigation I saw a little sign that said "Hong Kong Cakes 15 pcs for $1".
You may or may not know, but I'm a foodie with a penchant for sweets so I obviously waited in line (not so patiently) to try these Hong Kong cakes. As I got closer to the window I could see a woman making the cakes over an open flame in a weird looking pan. I realized these cakes were not really cakes, but more like egg shaped mini waffles.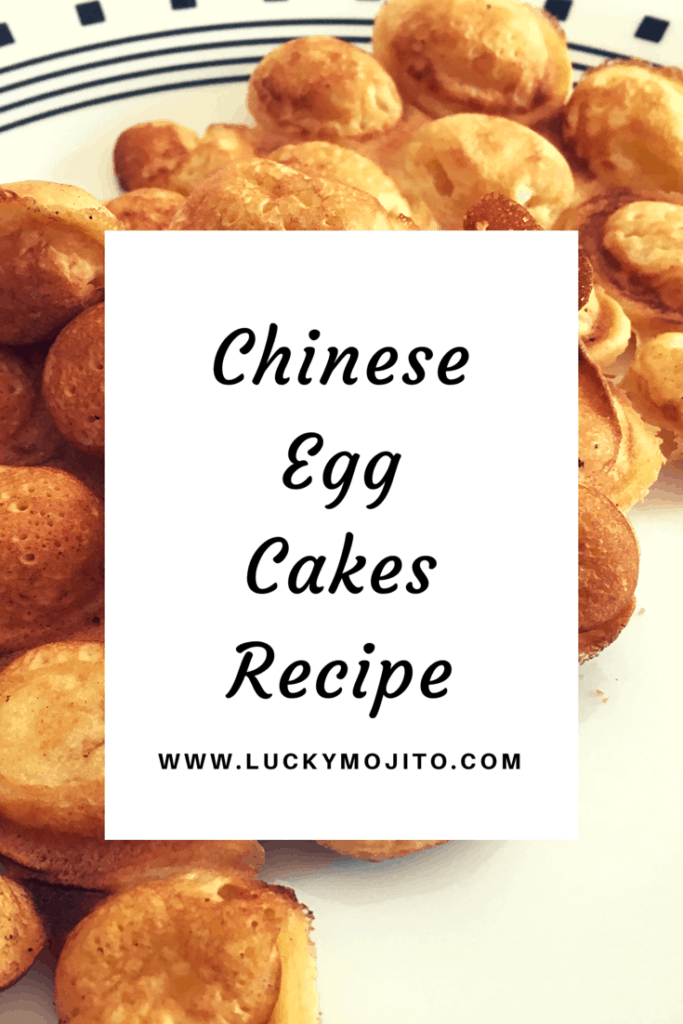 After greasing the little egg cake wells of the pan, the woman quickly poured the batter in this zigzag pattern. She then rotated the pan and flipped it over. After cooking a few minutes on each side she broke up the Hong Kong egg cakes into individual pieces and placed them into small translucent bags.
People in front of me were buying anywhere from 1 to 6 bags at a time. I bought 2 for myself. To me, these Hong Kong egg cakes are like a fluffier, egg-y tasting waffle. They have crisp edges and a spongy inside. They make a great snack or fun breakfast. I make them for my daughter who can be a picky eater at times, but she will always eat these.
Two years ago my dad had went to China and surprised me by bringing back a Hong Kong egg cake pan. He knows I like food related items 🙂
I searched online for Hong Kong egg cake recipes, but there were very few. Some called for custard powder and/or tapioca starch. Who even has that? I wanted a recipe that used ingredients that I had readily available at home.
At one point I tried using pancake batter with sugar added to it, which didn't work out so great.
It took some trial and error, but I finally came up with a recipe that works for me.
First, whisk together 3 eggs, 1/2 cup of sugar, 6 tablespoons of vegetable oil, and 1 teaspoon of vanilla extract until the mixture is pale and bubbly.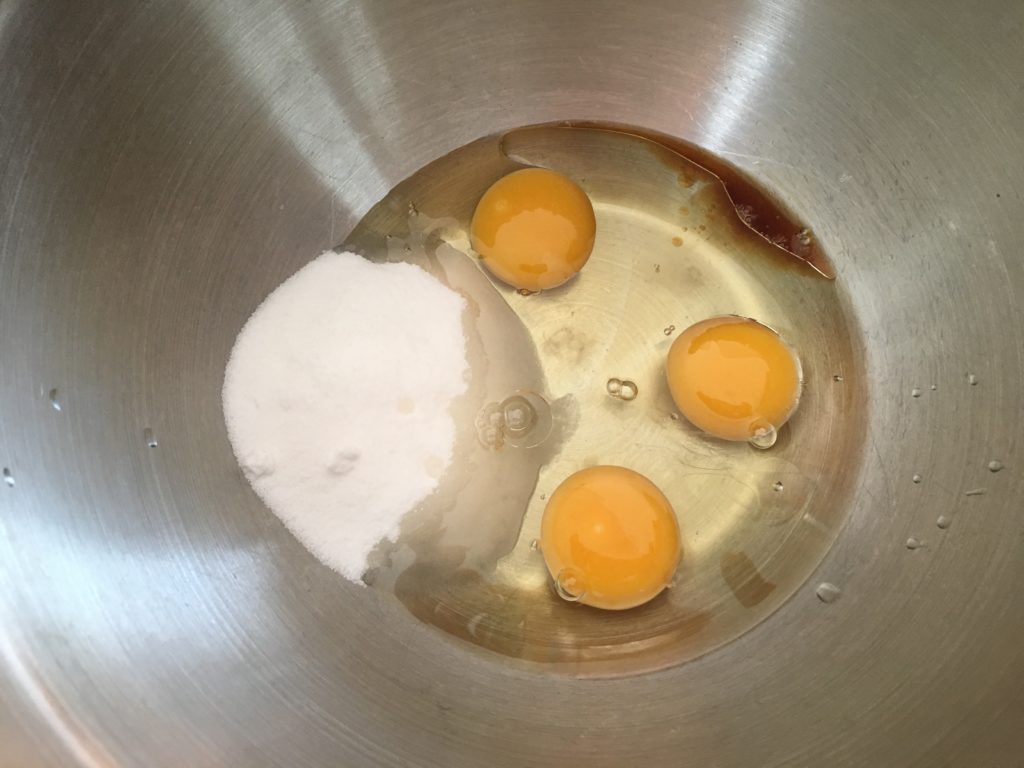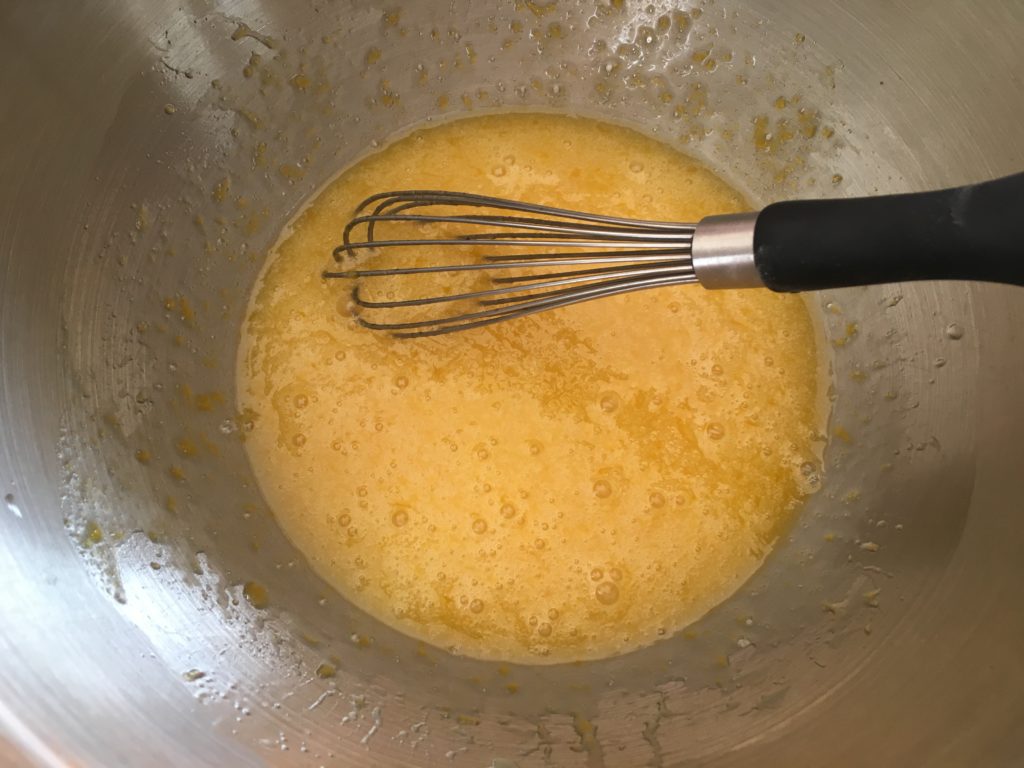 In another bowl, sift together 1 1/4 cups of cake flour and 2 teaspoons of baking powder. I'm lazy and just combine using a whisk.
If you don't have cake flour, which sometimes I don't, you can make your own using all-purpose flour. For this recipe measure out 1 1/4 cups of all purpose flour. Remove 2 tablespoons of the flour and replace it with corn starch. Sift the two ingredients together and you have your cake flour.
Measure 3/4 cup of water. Alternating between the flour mixture and the water, whisk them into the egg mixture. Once combined let the Hong Kong egg cake batter sit in the refrigerator for about one hour. If you're not so patient you can take it out a little earlier. Shhh..don't tell anyone.
When you take the batter out of the refrigerator give it a good stir. You'll see the batter change from a thinner pancake batter to slightly thicker after sitting.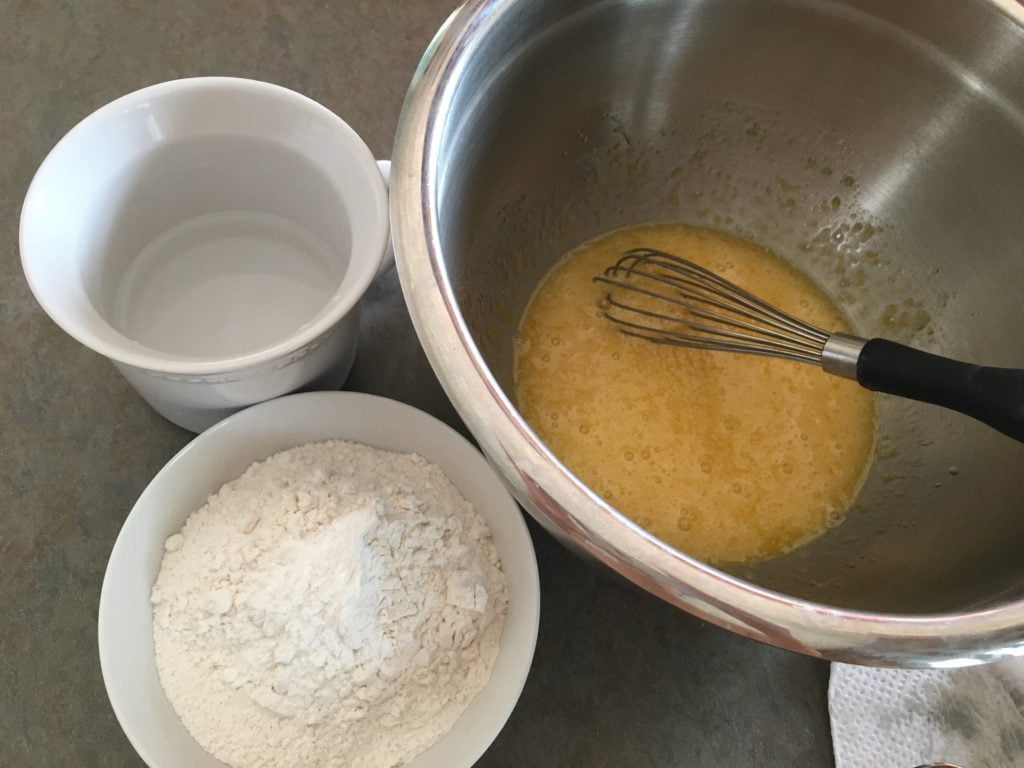 Heat both sides of your Hong Kong egg cake pan. Once hot, grease the egg wells on each of the pans with cooking spray or butter.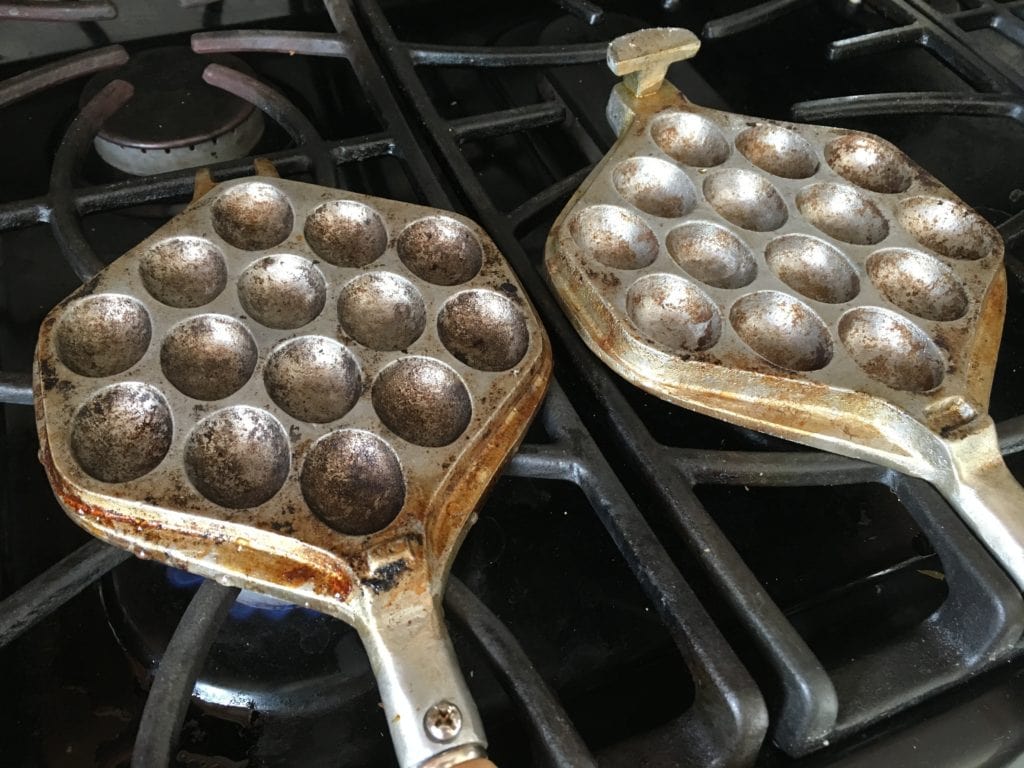 Side note: When I first got my Hong Kong egg cake pan I had to season it because most of the egg cakes were sticking to the pan. Simply oil the pan, heat it until it starts to smoke. Let the pan cool and then wipe off any of the excess oil.
Pour your batter into the egg cake pan being sure not to overfill like I do almost every time. The batter will expand and puff up. I find it easiest to pour my batter using a glass Pyrex measuring cup for better maneuverability
As soon as you pour the batter, close/cover with the other pan and flip over, rotating the pan every which way so that the batter gets into all the nooks and crannies. You'll know what I mean when you get flat egg shapes instead of round egg cakes.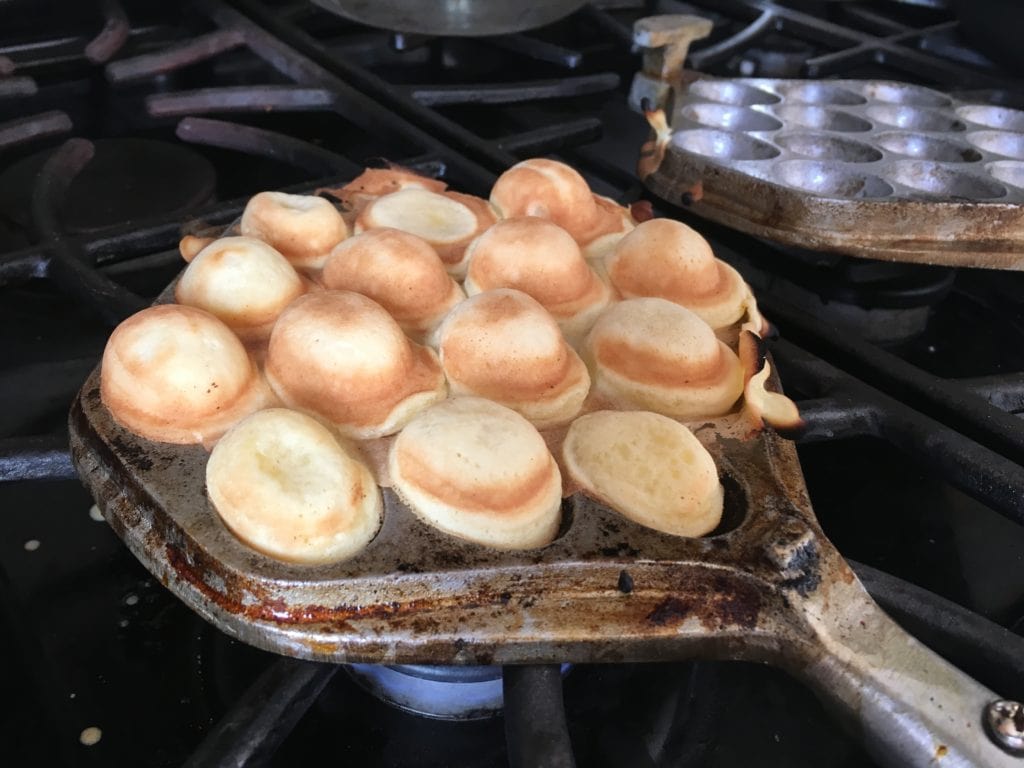 Cook for 2 minutes on this side then flip over again to cook another 2 minutes on the other side.
Gently open the pan to see that the egg cakes are brown. Once they are done, peel them slowly out of the pan and let cool on a baking rack.
I then break them up into individual "eggs" for my kids to snack on.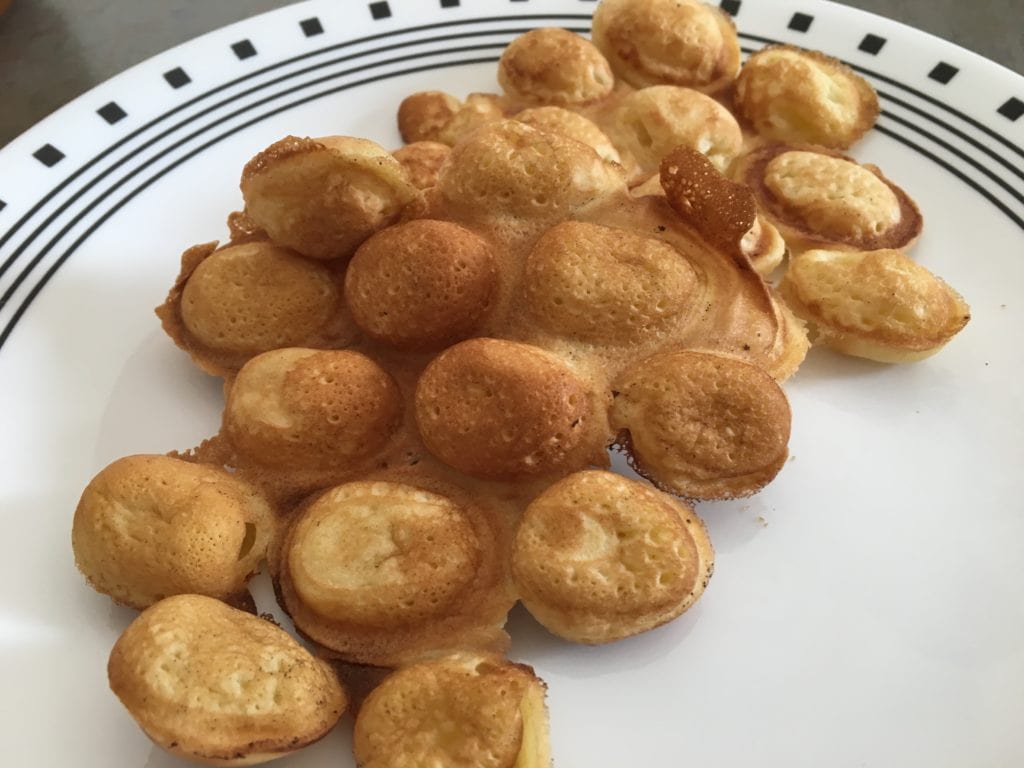 You can serve them whole, with powdered sugar, syrup, or plain.
Hong Kong Egg Cakes Recipe
3 eggs
1/2 cup sugar
6 tablespoons vegetable oil
1 teaspoon vanilla extract
1 1/4 cup cake flour
2 tsp. baking powder
3/4 cup water
1) Whisk together eggs, sugar, vegetable oil, and vanilla extract until pale and fluffy.
2) Sift together cake flour and baking powder.
3) Alternate between adding flour and water mixture to egg mixture. Mix until just combined.
4) Let batter sit in refrigerator for 1 hour.
5) Heat both egg waffle pans until hot. Grease well with cooking spray or butter.
6) Pour your batter into the heated pan until it's about three-quarters of the way full. Cover with the other egg waffle pan and flip to the other side rotating so that the batter can spread all around.
7) Cook 2 minutes on one side, flip pan again and cook an additional 2 minutes on that side. Once fluffy and brown, gently remove egg cakes and cool on baking rack.
These Hong Kong egg cakes are very easy to make once you get the hang of them. Like pancakes, the first few come out misshapen, but taste delicious all the same.
Let me know if you've ever had these Hong Kong egg cakes or plan on making them.
Happy eating!