*This post may contain affiliate links, which means that I may receive a commission if you make a purchase using these links.
After having kids I find that there are many more times where I encounter people I want to give gifts to. From baby shower favors, birthdays, graduations, nurses and hospital staff when I had my babies, teachers, and now camp counselors.
Figuring out what to get someone you don't really know doesn't have to be difficult or expensive. With a little bit of time and creativity you can put together your own personalized gift bags for every occasion.
A few days before my son was due I made these cute little gift bags to give to the nurses and hospital staff. I bought a bunch of clear favor bags to put all the goodies in. Inside I included mints, tissues, trail mix, candy, chocolate, and a gift card. To finish them off I printed out little thank you tags and closed them with a ribbon.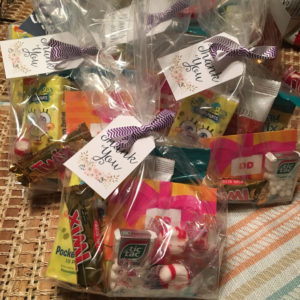 The nurses loved them and one nurse even came back to my room to thank me twice for how thoughtful the bags were. What I love about them is how easy they are to customize and make ahead. The possibilities are endless. For hospital staff I know they are always on the go so I was thinking packaged food to eat while on breaks and coffee to keep going. You can even include items like chapstick, hand sanitizer, pens, etc.
My daughter's camp has 12 counselors. She doesn't interact with all of them, but I wanted to get something for each one of them for all of the work they do. I also wanted something that wouldn't break the bank so here is what I came up with.


I know I said gift bags for every occasion, but really you can put the gifts in anything you want. I used these little containers because it's what my daughter uses to take her snacks to camp so I thought it would be cute.
Inside each container I put mints, candies, and chapstick. To finish them off I wrapped ribbon around each one and attached a gift card.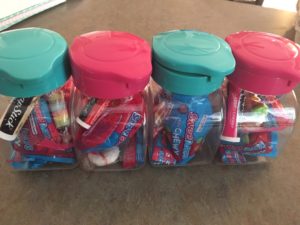 Here are more ideas for making gift "bags" for very occasion and what to include in them.
1) Money
Everyone loves cash. Now, depending on your budget and how many gifts you are putting together, this may or may not be your best option. I like to be creative when I give money.
Look up some origami videos and fold the money into a bow, flower, or clothes.
Fill a mason jar with colorful candy. In the center I put a cardboard tube (from paper towel or toilet paper roll) to hide some money in the center. It makes for a nice surprise.
2) Candy/Chocolate/Baked Goods
Sweets are the way to a lot of people's hearts, including mine. Making little goodie bags filled with candy or boxes of chocolates with a note is just something a little more personal to me. I love baking. However, when giving baked goods to people who don't know me, I prefer to stick to prepackaged goods or baked goods from a bakery. They don't know me well enough to know my baking quality and frankly might not want to eat baked goods from a stranger. I don't blame them I'm the same way.
3) Gift Cards
They have gift cards for everything, restaurants, movie theaters, stores, music, etc. Gift cards are great for when you don't know what to get someone, but don't want to give cash. You can even use the gift cards you earn from some of the survey sites I have listed here.
4) Think about who you are making the gift for and the occasion.
Kids: Bubbles, candy, toys, play-do
Nurses: Hand sanitizer, tissues, packaged foods, pen, coffee/caffeine related gifts
Camp counselors: Water bottle/thermos, key chains, t-shirts
Co-workers: Gift cards (maybe from food places they frequent), nice chocolates, nuts, tea/coffee set, alcohol
Valentine's Day: Chocolates, sweets, anything red, pink or heart shaped
Saint Patrick's Day: Green, 4 leaf clovers, skittles candy for the rainbow
Easter: Peeps, egg surprises, chocolates
Halloween: Anything pumpkin, caramel apples, candy corn
Christmas: Baked holiday cookies, red and green candy, hot cocoa mix, candy canes


The possibilities of mixing and matching are endless. What I like best about these gift bags for every occasion is they can be customized to fit into any budget.
Do you have any other great gift bag ideas you'd like to share? Let me know in the comments.