*This post may contain affiliate links, which means that I may receive a commission if you make a purchase using these links.
Theme parties are always a hit with kids and adults in my opinion. We had done a rainbow themed party for my daughter's first birthday. For her second birthday we decided to do a farm theme at our house.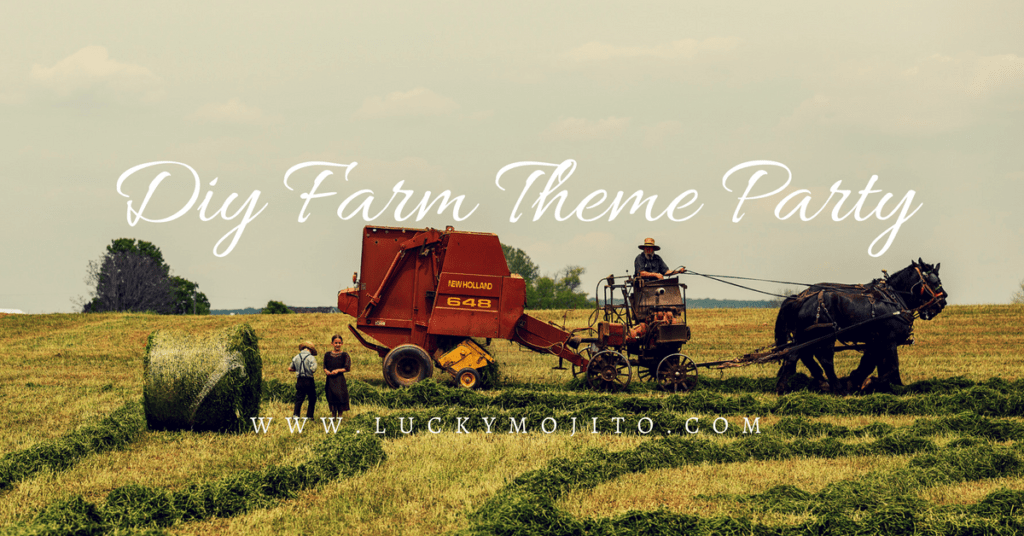 I went to a few party stores and had a very hard time finding farm themed decorations. I was regretting not going with an easy to shop for theme such as Mickey Mouse, princess, or Bubble Guppies. I had already had custom farm themed photo invitations sent out.
I would have to resort to ordering most of it online. Lots of the decorations were pricey, so that wasn't going to happen. My inner DIYDS (do-it-your-darn-self) kicked in. I went crazy looking for ideas on Pinterest, Etsy, and Google.
DECORATIONS
I used a bunch of balloons and construction paper to make the farm animal decorations. We had pigs, cows, chickens, and sheep.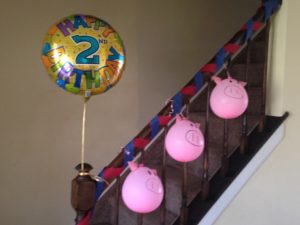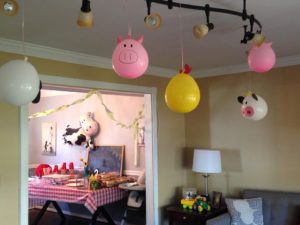 I put out toy tractors and farm animals that I had picked up at a rummage sale for $4.
I picked up plastic picnic table cloths, red cups, plates, and utensils. They had a lot of these supplies at the dollar store and Walmart.
We picked up a cow and 2 horse balloons from the party store, which were the only decorations we bought.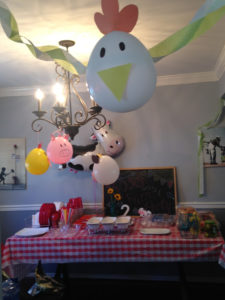 The chalkboard only cost me $1. I wrote "Rose's Farm Party" on it and I think it came out so cute.
My husband picked up a few bales of hay for the photo op section of the yard. I made a barn, horse, and chick photo props using construction paper, tape, and a wooden dowel.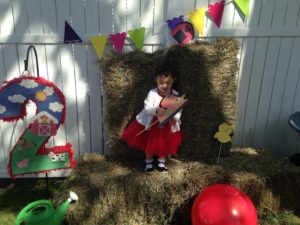 The labor of love was the piñata I made, which I based off of this cute one I saw at the Etsy store here. They do tons of custom orders, from Disney characters, Paw Patrol, mermaids, Shopkins, and an adorably cute unicorn (it's so fluffy!!!), all at very good prices. So if don't feel like spending hours on a piñata I definitely recommend them.
Using two cardboard boxes I cut out the number 2. After decorating over several days I made this (drumroll please):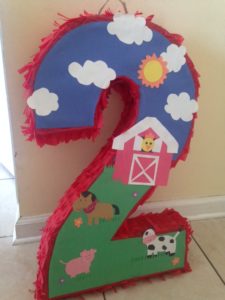 It was made with construction paper, glue, tape, and lots of candy. I didn't want it to break too easily so used a lot of glue, tape, and tissue paper on the outside. It was extremely heavy from all of the candy. When we went to wack it outside it was actually too strong. LOL
FOOD
We had approximately 30 people over. I cooked way more than enough food. We had chips, dip, cheese platter, stromboli, 3 types of macaroni salad, meatballs, pulled pork, pigs in a blanket, hamburgers, hotdogs, etc. The list could go on and on.
Here are a few of the recipes of what we made that day. No one wants to spend the entire day in the kitchen. I prepared and prepped as much as I could the day before.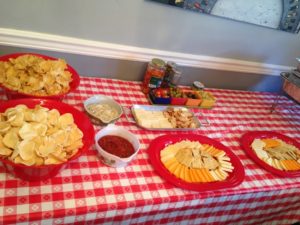 For dessert we had a farm themed cake that my mother-in-law bought. This fit the theme so perfectly and saved me so much time as I was actually crazy enough to think about making my own farm themed cake.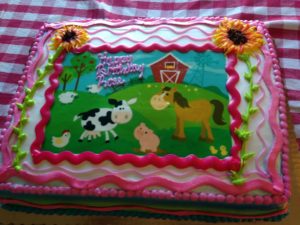 For dessert I also made brownies decorated with chocolate farm animals. I used this mold to make them.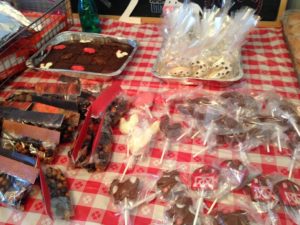 I bought this farm animal chocolate lollipop mold. It had a rooster, pig, cow, and barn mold. I tried not to go overboard.
As if that wasn't enough I also made favors using a moose crunch mix my sister bought for me.  To do this cut out rectangles from different colored pieces of paper that match the width of the cellophane bags you are going to use. You can use a decorative edger along the width side of the rectangle if you want it to look even nicer. Put your candy or mix into the bags and then staple the rectangle along the edge. Sorry I don't have a good picture, but if you search DIY candy favor bag you'll see what I mean.
I also made sugar cookies and cut them out using a number two cookie cutter. After they were cooled I covered them with white icing and colored in black and brown spots to resemble a cow. How cute are they?! I wrapped them up individually in cellophane bags as part of the favors.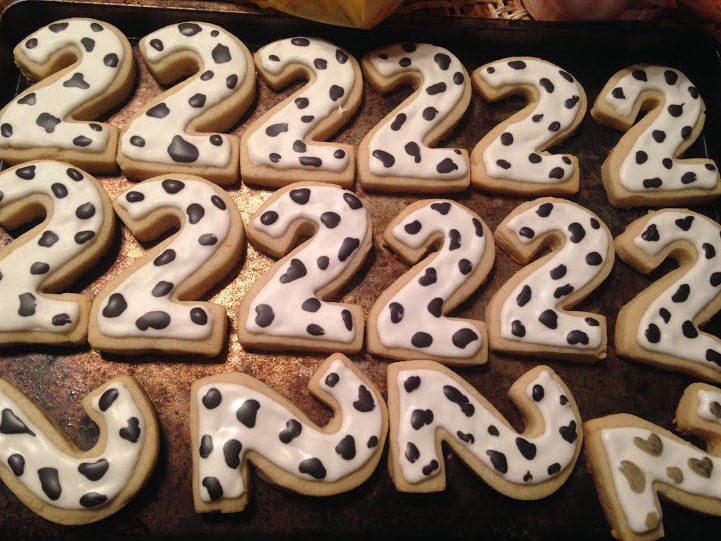 Throwing you own farm themed party doesn't have to be time-consuming or expensive. See what you can scrounge up at the dollar store first. The balloons and construction paper made up the majority of the decorations. If your kids are older they can even have fun helping.
For food you can do pretty much anything. To make it even "farmier" you can label the food with fun names like "piggies in a blanket", "garden patch veggie platter", popcorn "chicken feed", etc. Get creative!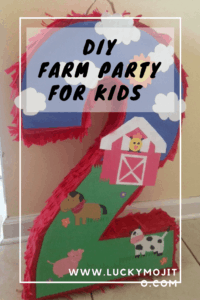 If you are planning on throwing a themed party have fun. Leave a comment below if you have any questions or need help.