I don't know about you, but when I go to a party one of the most important things to me is the food. Not only does it have to be good, but there has to be enough. This is why when I have a party I cook like I'm feeding an army.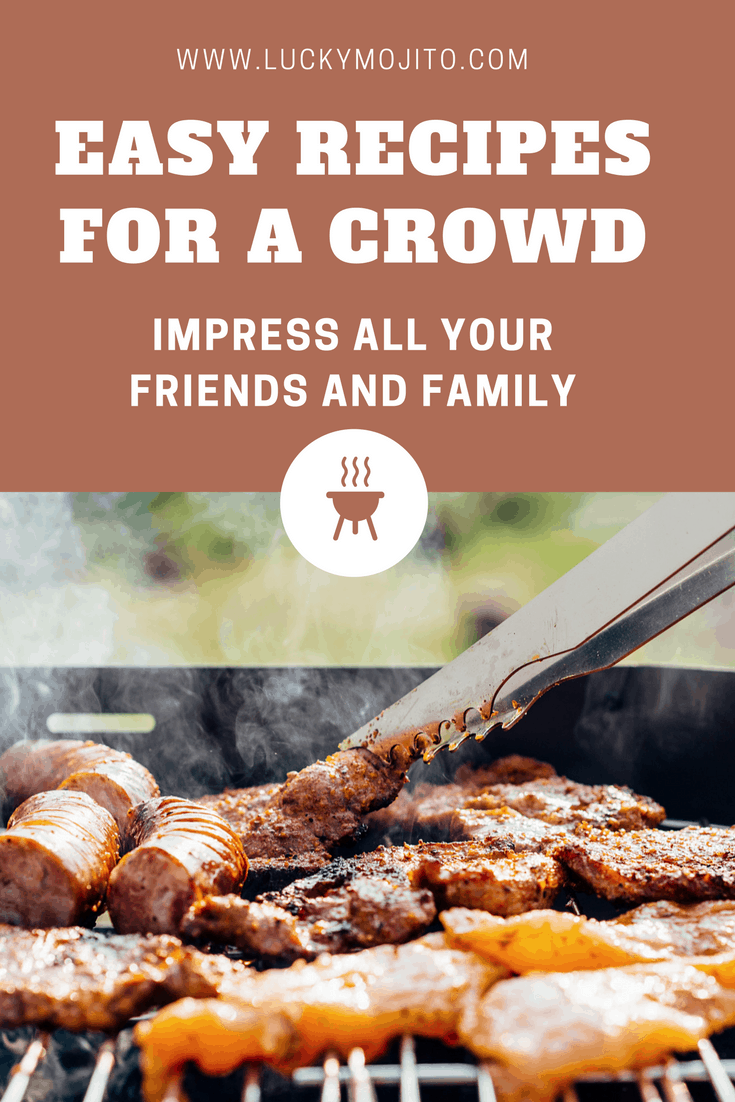 Here is a list of tried-and-true recipes that are great to make ahead and feed a big group.
1) Root Beer Pulled Pork Sliders
Put a pork shoulder into your crock pot. I like to rinse mine off with water. Pour a bottle of root beer soda over the pork shoulder. I use almost a whole 2-liter bottle, but use enough to almost cover the shoulder. (You can use cola if you don't have root beer). Cook covered on low for approximately 8-10 hours until tender. When done, drain the pot. Shred the pork, taking out any bones. Add BBQ sauce. I like mine extra saucy. Stir. Cover and cook for 30 minutes or until heated through. Serve on your buns of choice.
2) 3 Ingredient Glazed Cocktail Meatballs
These are to die for! And sooo easy to make. My husband HATES frozen meatballs and when we were dating he dumped out the ones I had in the freezer. Don't judge me! Listen, not everyone has time to make homemade meatballs, but if you do I'll give you my amazing meatball recipe here in the future.
I made a vat of these for my daughter's 2nd birthday and my husband ate a ton of them. People were asking me for the recipe. Part of me didn't want to tell them because they are so easy. Take a bag of frozen cooked meatballs (approximately 2 lbs, but I like to eyeball it) and put into your crockpot. Pour in an 18-ounce jar of apricot preserves and an equal amount of your favorite BBQ sauce. Cover with the lid and let cook on low for 4 hours stirring occasionally.
Bet you can't eat just one!
3) Pizza Roll-Ups

Buy a package of refrigerated crescent roll dough or pizza crust dough. Cut the dough into two rectangles. Spread your favorite tomato sauce over the dough. Sprinkle with grated mozzarella, Italian seasoning, and your favorite toppings. I personally like to use pepperoni and ham. Sprinkle with parmesan cheese.
From the longer size, roll up each of the pieces of dough into a log. Cut into 1″ slices.
Bake in the oven at 400 degrees for approximately 10 minutes, until golden brown. Serve with a side of marinara sauce.
4) Chicken Enchiladas

To make the filling:
Take a rotisserie chicken and shred it into a large bowl. Add half of a big jar of salsa. Season with salt, pepper, paprika, and oregano. Add 1 cup of shredded cheese (cheddar or 4-cheese mix), 1/2 cup of corn kernels, and 1 cup of black or pinto beans. Taste and make sure the filling is to your liking.
Pour enough salsa into a 13″ by 9″ baking dish to cover the bottom. Fill your flour tortilla shells with filling and roll them up. I'm heavy handed and like mine on the meaty side. Lay them side-by-side into the baking dish. Once complete cover with the remaining salsa and enough shredded cheese to cover.
Bake in the oven at 350 degrees for 35-45 minutes until bubbly. This tastes even better the next day. Serve on its own or with sour cream and guacamole.
5) Homemade Pigs in a Blanket
I made these at work for one of our parties and my coworkers devoured them. People were amazed how much better they tasted than the frozen kind. I love them so much better AND they are so much cheaper. Bonus!
Buy a roll of refrigerated crescent roll dough and divide it into 4 rectangles. Smush (yes that's a technical term) the diagonal perforations of each rectangle, front and back, together so you don't see the diagonal line.
Roll up a hot dog from the longer side of each rectangle, the hot dog should fit almost perfectly horizontally. Cut into bite-sized pieces. Bake in the oven according to the temperature on the package directions until golden brown.
All of these crowd-pleasing recipes are easy and can be made ahead of time. For the pigs in a blanket I leave them uncooked on cookie sheets in the refrigerator until baking time since I like them best straight out of the oven. I made most of these for my daughter's 2nd farm themed birthday party and everyone raved how good everything tasted.
A party isn't a party without the food, but it also isn't a party if you're stuck in the kitchen all day. Keep it simple. prepare, and be ready to impress your friends!