*This post may contain affiliate links, which means that I may receive a commission if you make a purchase using these links.
You know a zucchini bread recipe is good if it has a ton of zucchini in it AND both your kids (ages 3 and 11 months) keep asking for more.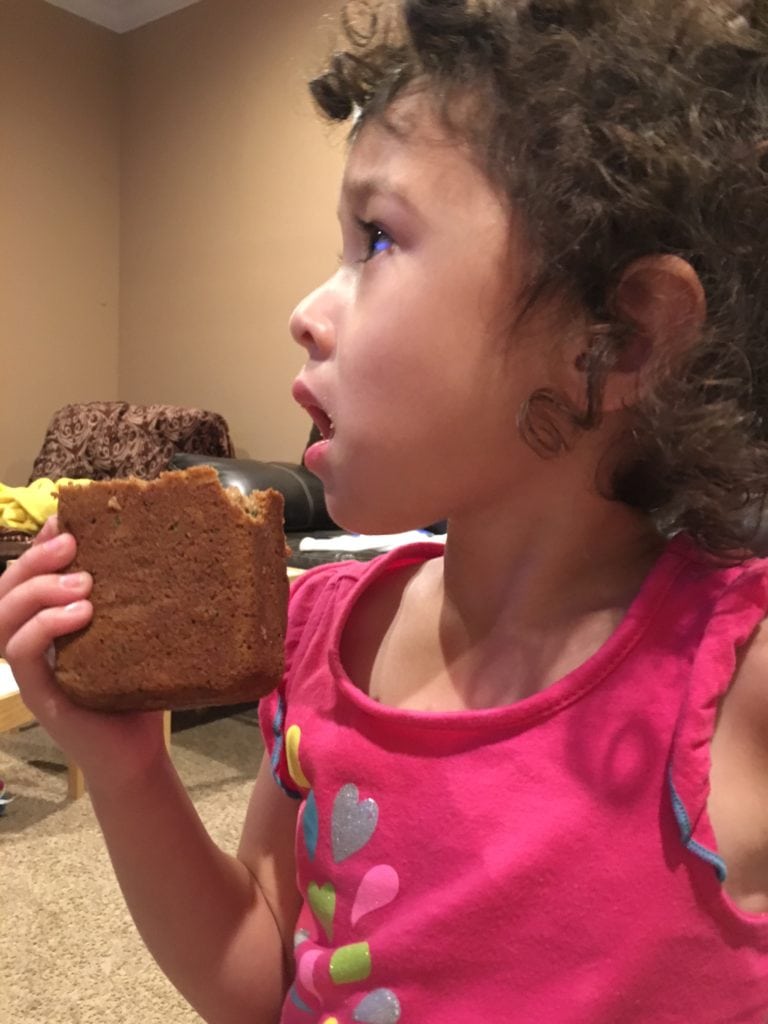 We have an abundance of zucchini from my husband's garden and as much as I like sautéed zucchini, zucchini casserole, and baked zucchini, I was craving something sweet.
I remember my best friend making this deliciously moist zucchini bread ages ago so I went to Allrecipes.com and searched for a zucchini bread recipe. I picked "Mom's Zucchini Bread" recipe. This recipe has been made and reviewed by over 6,000 people! After eating it I understand why. With some slight modifications it's absolutely moist, delicious, not overly sweet, AND contains a bunch of zucchini.
Wash a medium/large zucchini. Don't bother peeling the skin off. Grate until you have 3 to 4 cups.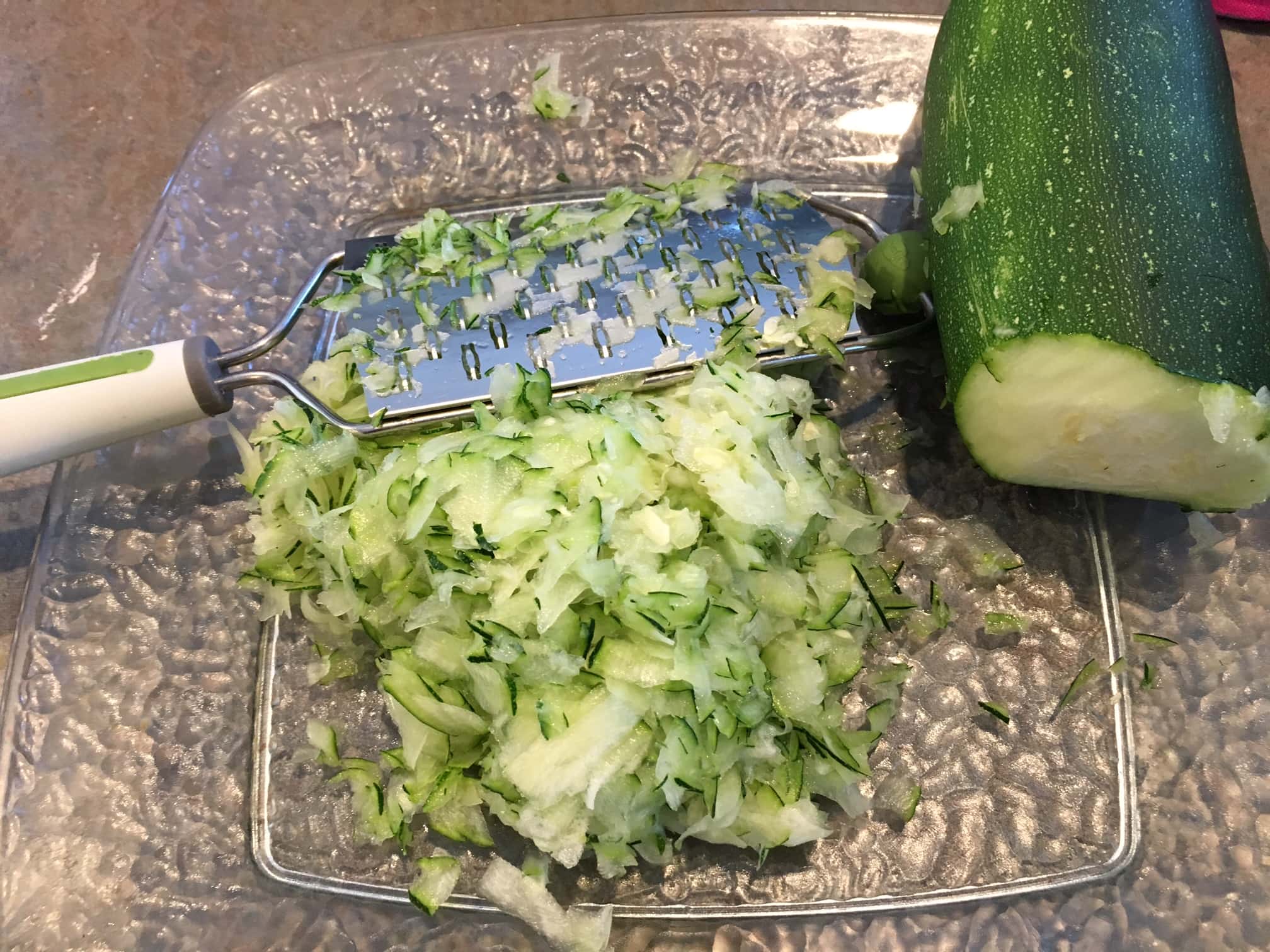 Zucchini retains a lot of water and makes this bread super moist. I don't drain the excess water out. Just give the grated zucchini a gentle squeeze before placing into your measuring cup.
Sift together 3 cups flour, 1 teaspoon baking powder, 1 teaspoon baking soda, 1 teaspoon salt, and 1 tablespoon cinnamon (it sounds like a lot, but trust me, it's the perfect amount) into a bowl.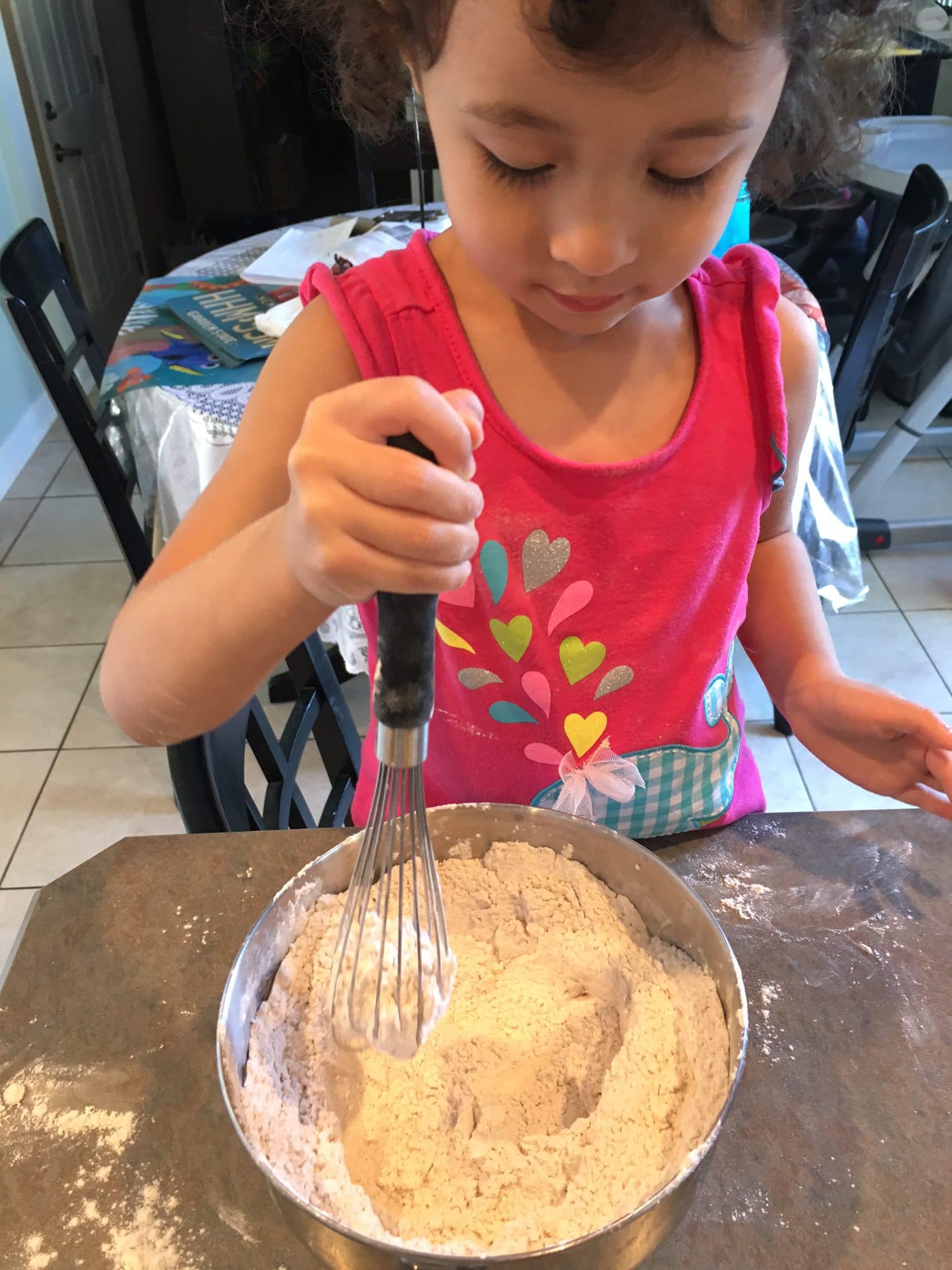 In another bowl whisk together 3 eggs, 1/2 cup applesauce, 1/2 cup oil, 1 cup sugar, 1 cup brown sugar, and 3 teaspoons vanilla. If you don't have applesauce you can use oil instead.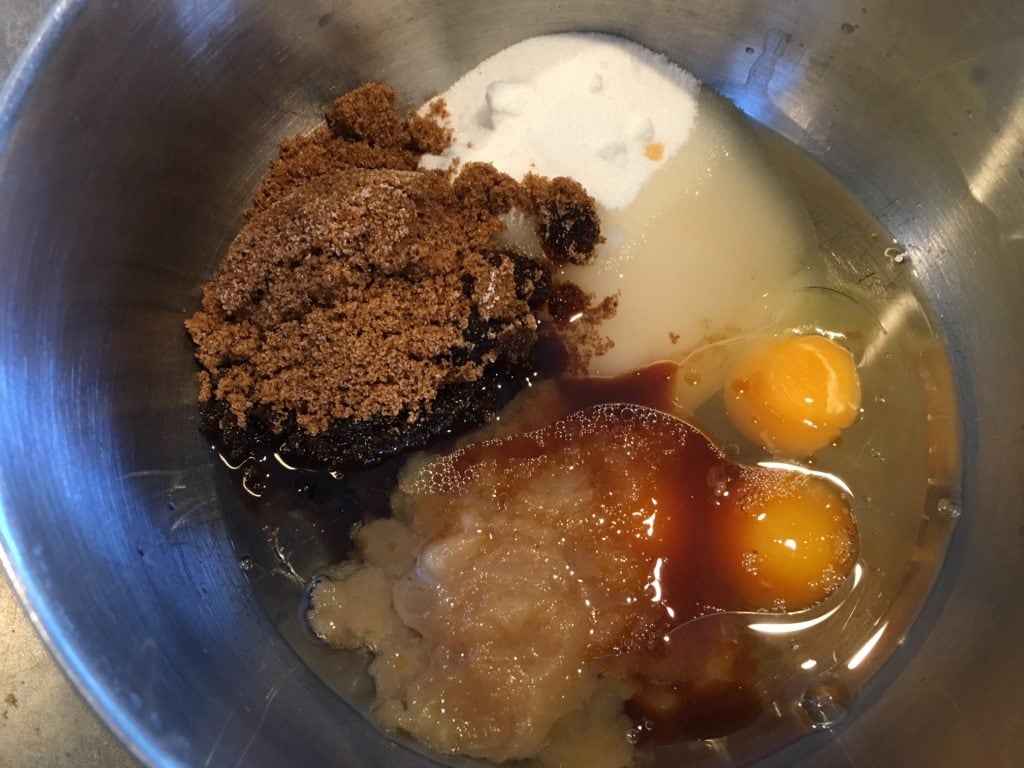 Once the mixture is combined, gradually stir in the flour.
The mixture will start to get very thick. Fold in the grated zucchini.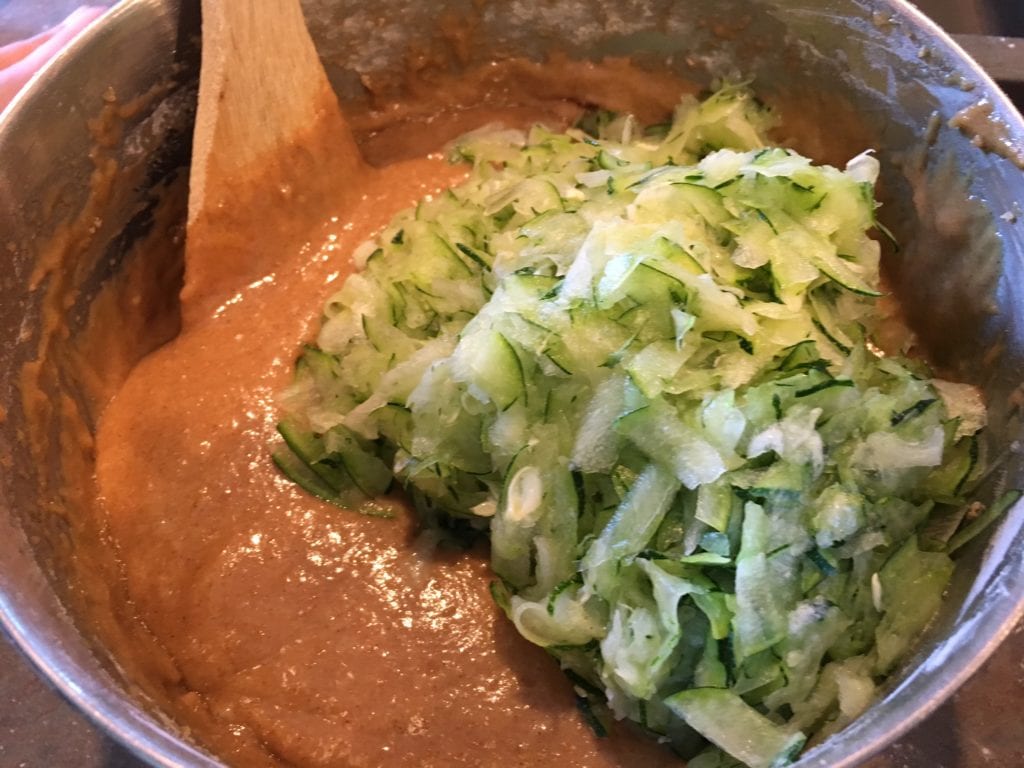 Once combined pour into greased loaf pans. The recipe suggests two 8″ by 4″ pans. I used one pan and two mini pans.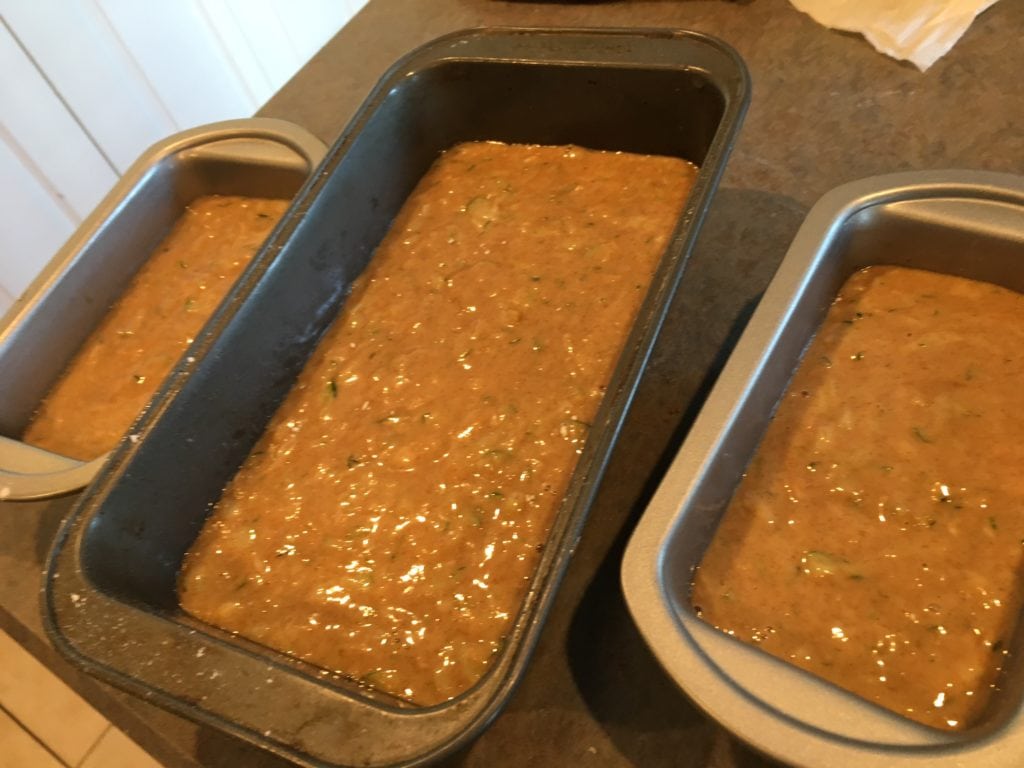 Bake in the oven on 325 degrees Fahrenheit for 50-60 minutes. Check that the loaves are done when a toothpick put into center of each loft comes out clean. The mini loaves were done 10 minutes earlier than the big loaf.
Allow the loaves to cool in their pans for 15 minutes on a cooling rack. Remove the loaves from their pans and allow to cool.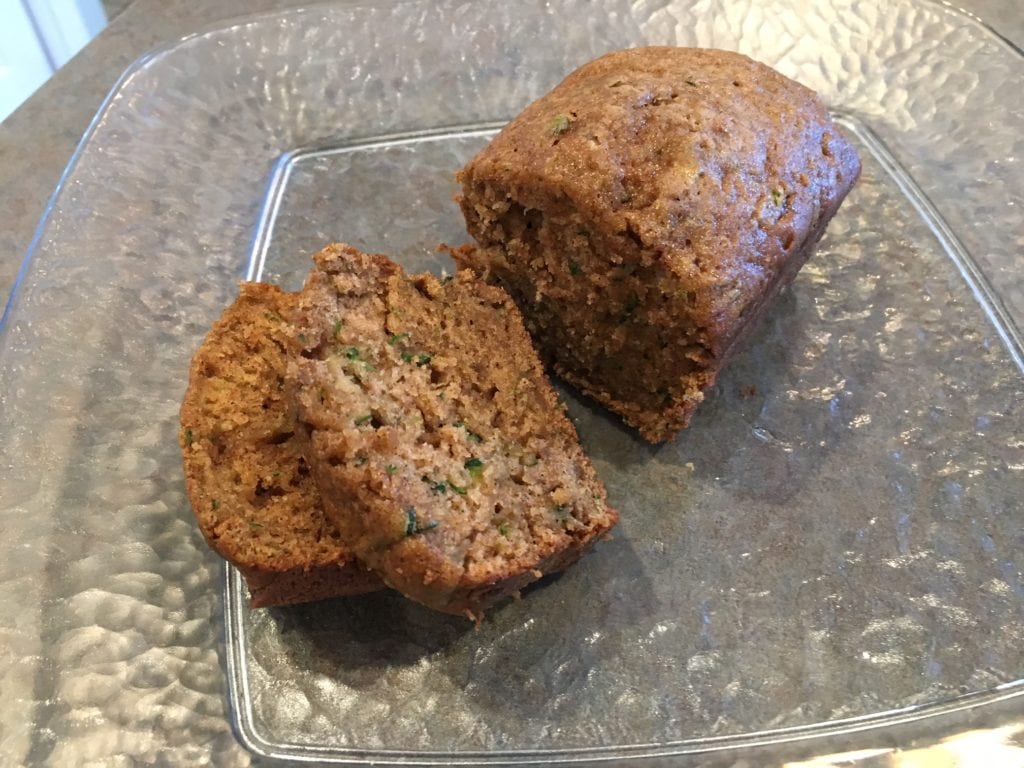 Recipe Adapted from Allrecipes.com
3 to 4 cups grated zucchini
3 cups flour
1 teaspoon baking powder
1 teaspoon baking soda
1 teaspoon salt
1 tablespoon cinnamon
3 eggs
1/2 cup vegetable oil
1/2 cup applesauce
1 cup sugar
1 cup brown sugar
3 teaspoons vanilla
1) Heat oven to 325 degrees Fahrenheit.
2) Wash and grate a medium to large zucchini until you have 3 to 4 cups. Gently squeeze out extra moisture and put aside.
3) In a bowl, sift together the flour, baking powder, baking soda, salt, and cinnamon.
4) In another bowl beat the eggs, oil, sugars, and vanilla. Once combined add in the dry ingredients. Once combined fold in the zucchini.
5) Grease two- 8″ by 4″ loaf pans. If you have smaller sizes they will cook faster so set your timer. Bake for approximately 50 – 60 minutes until a toothpick inserted into the middle comes out clean.
6) Allow loaves to cool.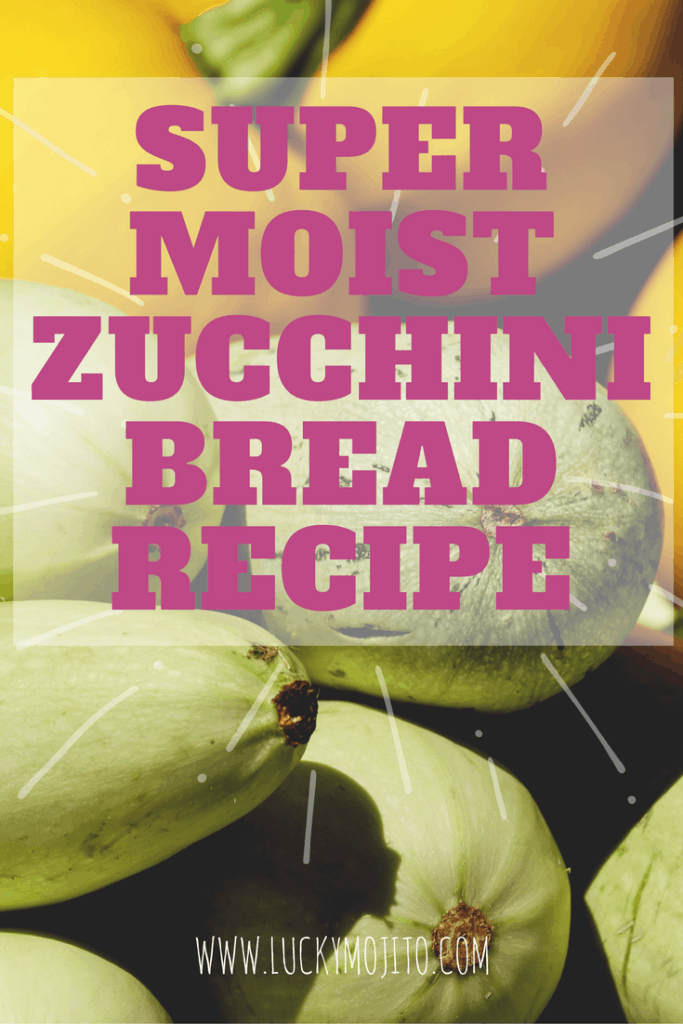 My daughter helped me make the zucchini bread and said that it was "yummy in the tummy". When I went to take a picture of her eating the bread she shoved the whole piece in her mouth.
It can be hard to get a toddler to eat, especially a picky one. Letting your kids be a part of the cooking or baking process makes it fun for them and more willing to try new foods. See my other tips for getting a picky eater to eat here.
Needless to say this zucchini bread was a success. It's very moist and a great recipe, even for non-veggie lovers.
Let me know how your zucchini bread turns out. I hope you think it's "yummy in the tummy" too!