*This post may contain affiliate links, which means that I may receive a commission if you make a purchase using these links.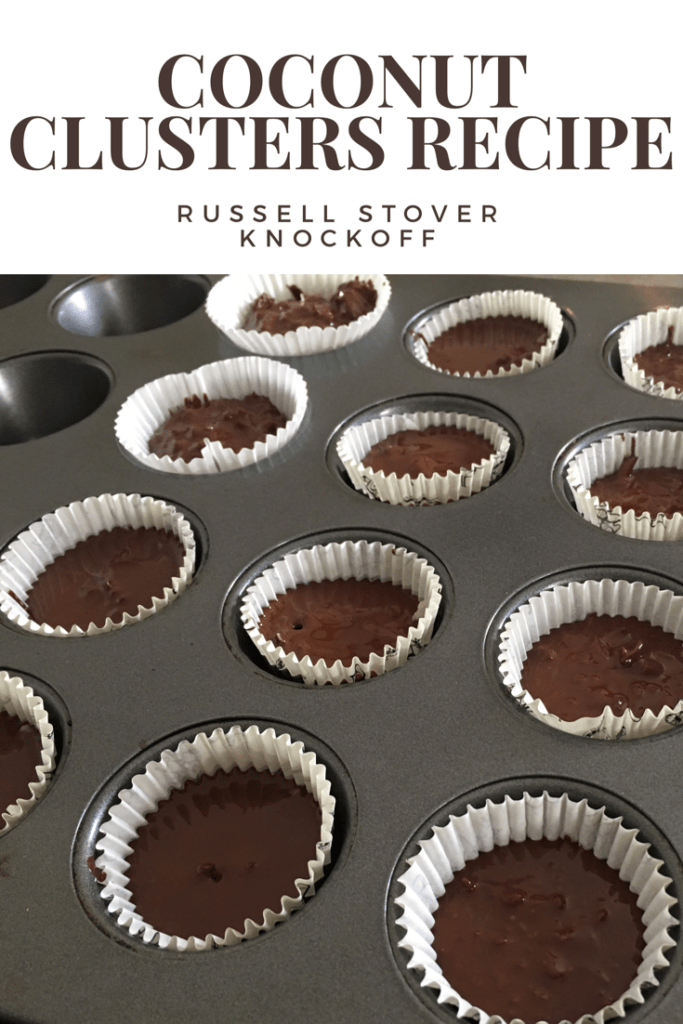 Today is my husband's birthday and as a tradition I buy him a box of Russell Stover coconut clusters each year. The other day I went to the supermarket to buy them, but they don't have them in stock yet because they are a seasonal item.
Now I know what you might be thinking. Russell Stover chocolates, really?!
In my husband's words he loves "crappy chocolate".
If you haven't tried Russell Stover's coconut clusters you're missing out. I'll agree their assorted box is lackluster, but their coconut clusters are so good. I don't even care for coconut and I think they are yummy.
Look on Amazon and you'll see they have 5 star ratings, as opposed to their assorted chocolates, which has 2 and 3 star ratings. According to the box they come in, the coconut clusters are "handcrafted in small batches" and maybe that's why they taste better.
Now I could wait until the supermarket gets them in, but not one to break tradition I chose to make my own knockoff version with just two ingredients. That's right two. Good chocolate and coconut flakes.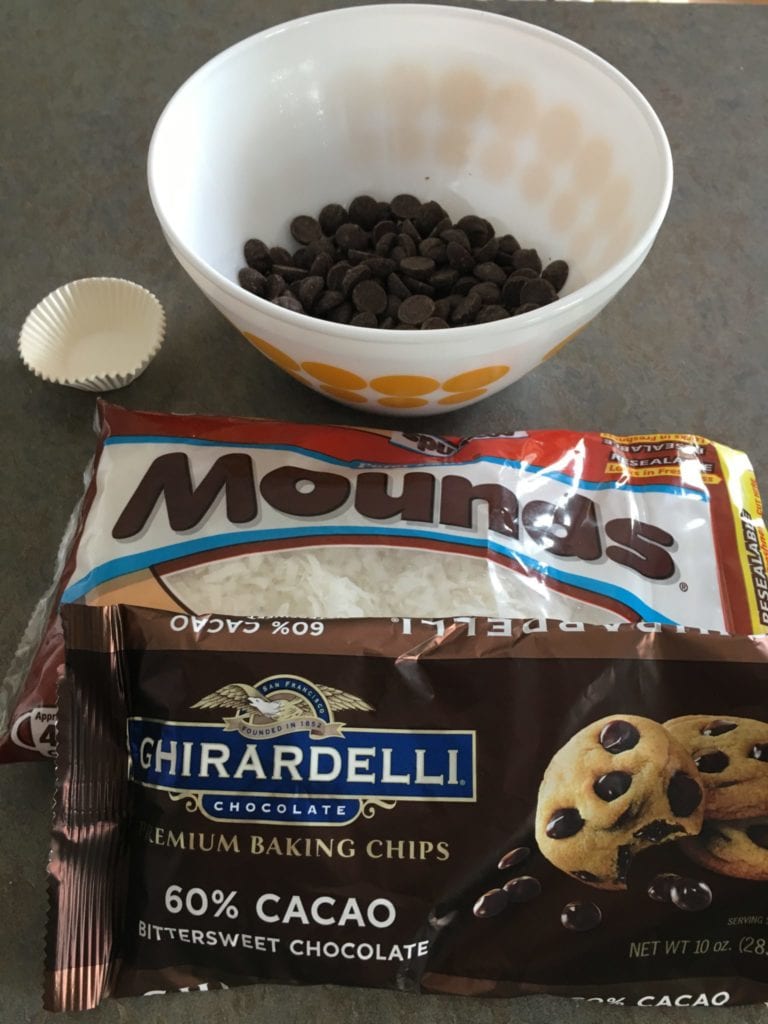 Line a mini muffin pan with mini liner cups.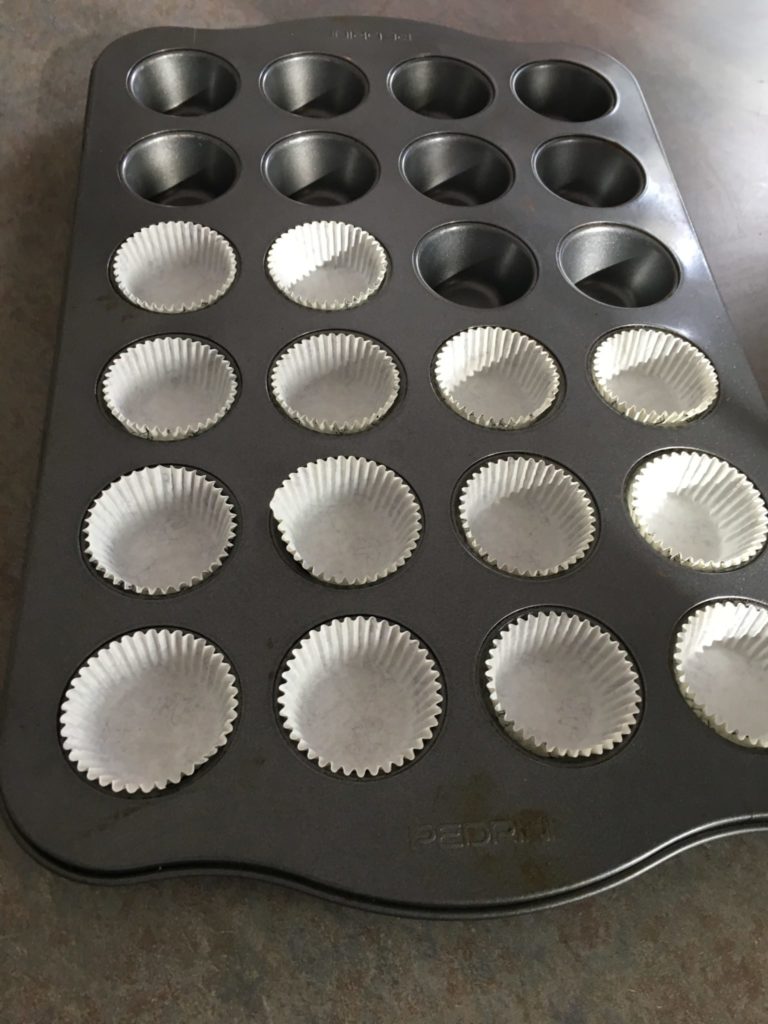 Preheat your oven to 300 degrees Fahrenheit. Pour about 2 cups of coconut flakes onto a baking sheet and place in the oven. After 2 to 3 minutes stir the coconut flakes. DO NOT LOOK AWAY! You want to toast the coconut to a golden brown. Give it about another minute or so then take them out of the oven to cool.
You'll see I toasted my coconut flakes nicely, but was just seconds away from burning them. I might have looked away. I know, I know.. Which is why I will tell you again. Do NOT look away.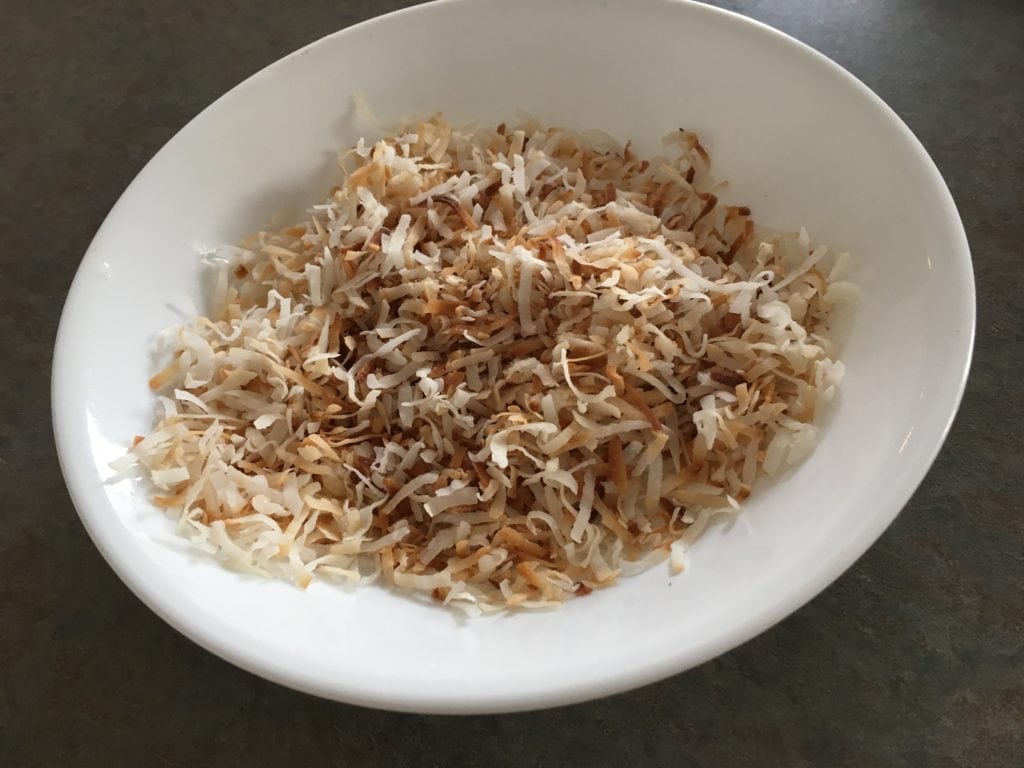 Once the coconut flakes are cool, crush them up with your hand to break up the longer strands.
Put two-thirds of a 10 ounce bag of chocolate (approximately 7 ounces) into a heat safe bowl over a pot of boiling water. This is called the double boiler method. You can use the chocolate of your choice. I chose to use Ghiradelli dark chocolate.
Do not stir the chocolate until you see it start to melt. Stir until just melted and remove from the heat. Stir in the remaining chocolate.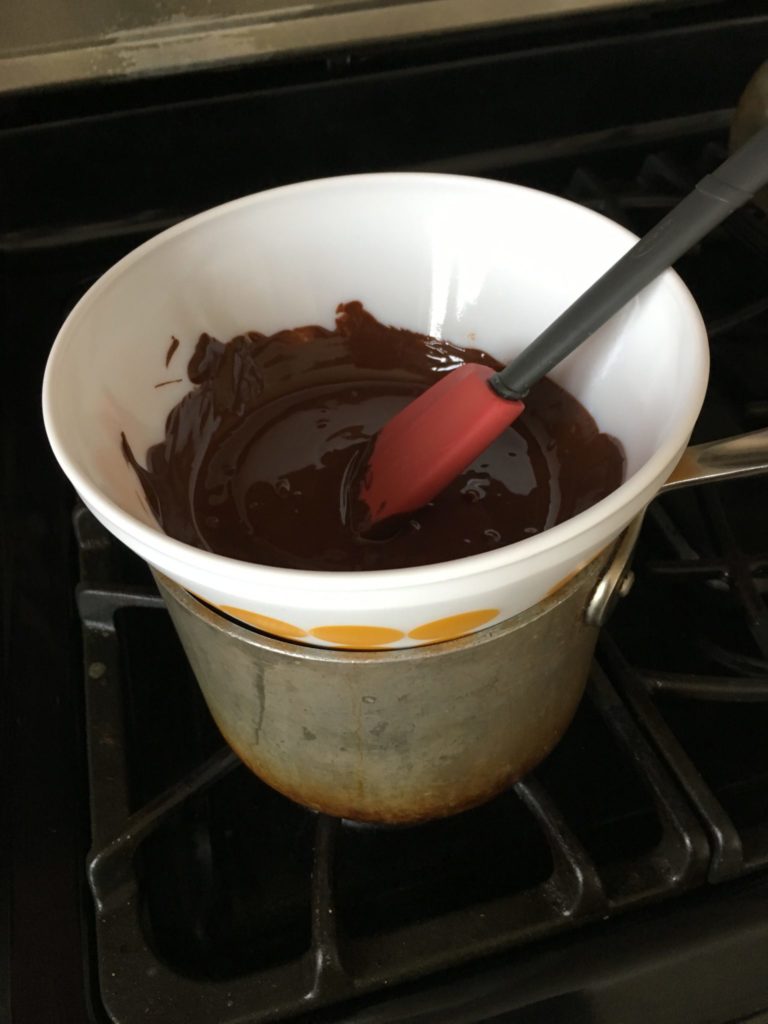 Continue stirring so that the chocolate can cool and start to thicken.
There's a special technique to properly tempering chocolate so that it stay glossy, sets properly, and has a nice crunch once cooled. I won't get technical on you, but just make sure you don't overheat the chocolate and that you let it cool down before going to the next step.
I then gradually added the toasted coconut flakes to the melted chocolate. You can add as much or as little as you like.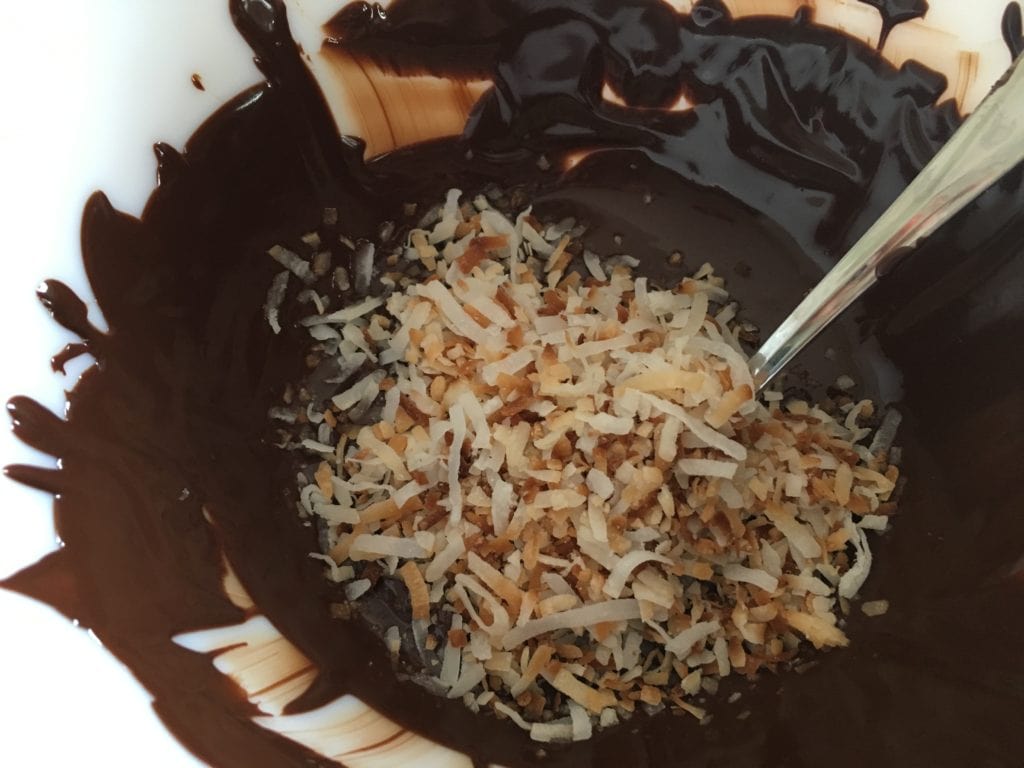 Once combined pour the chocolate into the mini muffin cups until two-thirds full.
I even got fancy and placed some toasted coconut on top of some of the poured chocolates.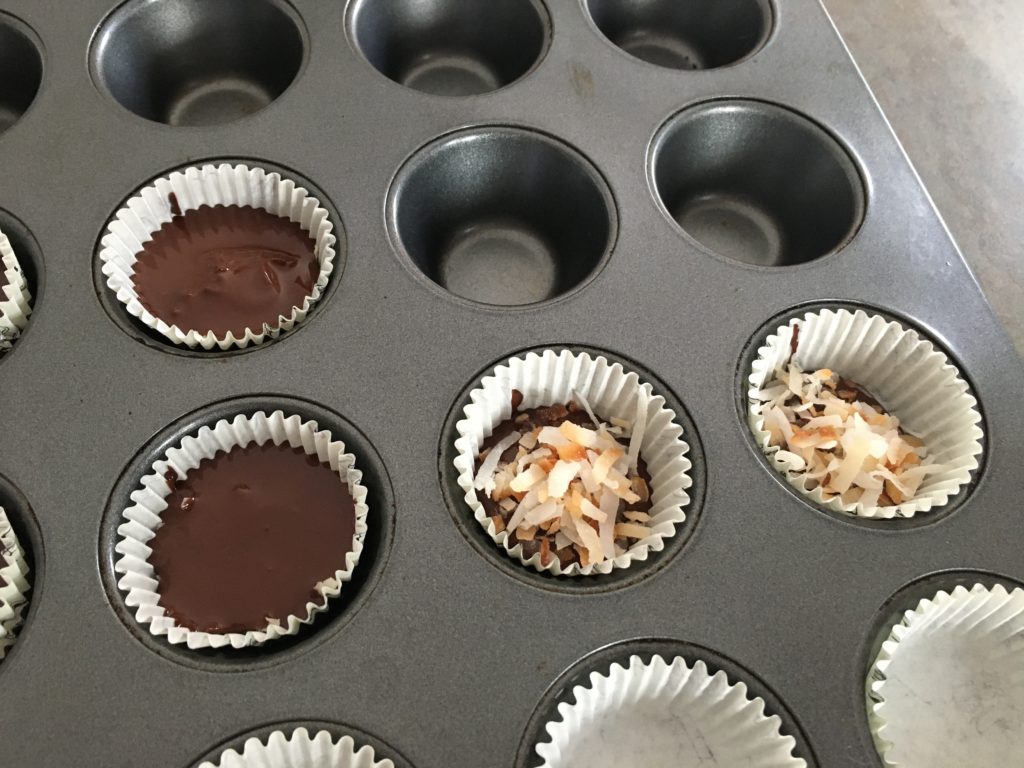 Bang the pan against the counter or flat surface to get out the air bubbles. Place the pan in the refrigerator to harden. It only took about 10 minutes.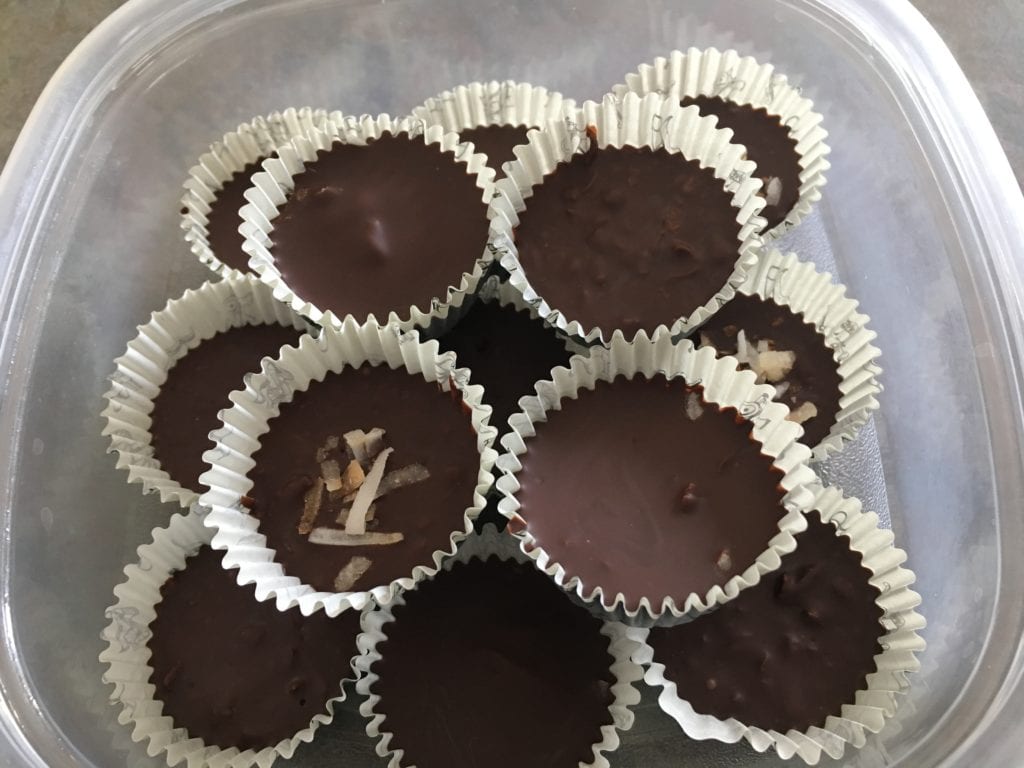 Remove them from the refrigerator and enjoy.
With the holidays coming up think about making your own coconut clusters. You can even make your own chocolate assortment by adding dried fruit (cranberries, raisins), mini marshmallows, and nuts.