*This post may contain affiliate links, which means that I may receive a commission if you make a purchase using these links.
Holidays take on a whole new meaning when you have kids. It's so much fun to see them enjoying what you enjoyed as a kid and experiencing them for the first time.
With Halloween right around the corner, I get to reminisce about all the crafts we made at school, parties, and fun memories with family and friends.
This week my daughter's pre-k class is going to have their own Halloween parade.  I think I dressed up as a daisy for my first school Halloween. Lame right?
The holidays always bring out my creative side, but now that I have kids time is a bit lacking shall we say. This year I chose to make easy Halloween treat bags for all the kids in my daughter's class. See my post here for other treat bag ideas.
These Halloween treat bags were so quick to put together and cost me less than $1 each to make.
To start off I bought these adorable Ziploc Halloween bags from the dollar store. You get 40 bags for $1 which means that it's less than 3 cents a piece!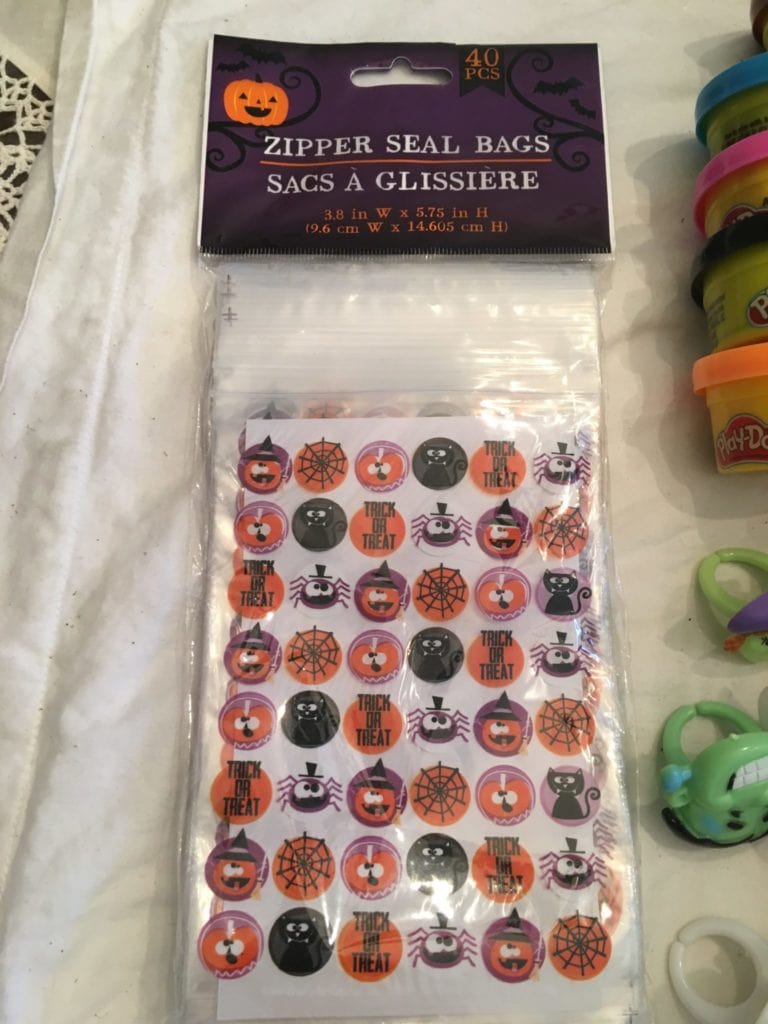 I then collected "treats" to fill the bags with.
First, I bought an 80 pack of fun size Play-Doh which comes out to 40 cents a piece.
I also had little boxes of tattoos from last year so they didn't cost me anything, but you can get tattoos for about 4 cents a piece. I also had Halloween rings (bats, ghosts, Frankenstein, cat, etc.) that I picked up last year for less than a penny a piece. You could get something similar from your local dollar store. Of course I also bought a variety of candy for the trick or treaters and put a few pieces in each bag.
My daughter wanted to "help" so we had our own little assembly line to put each of the treats into the bags. I think she also wanted to try sneaking some candy too 🙂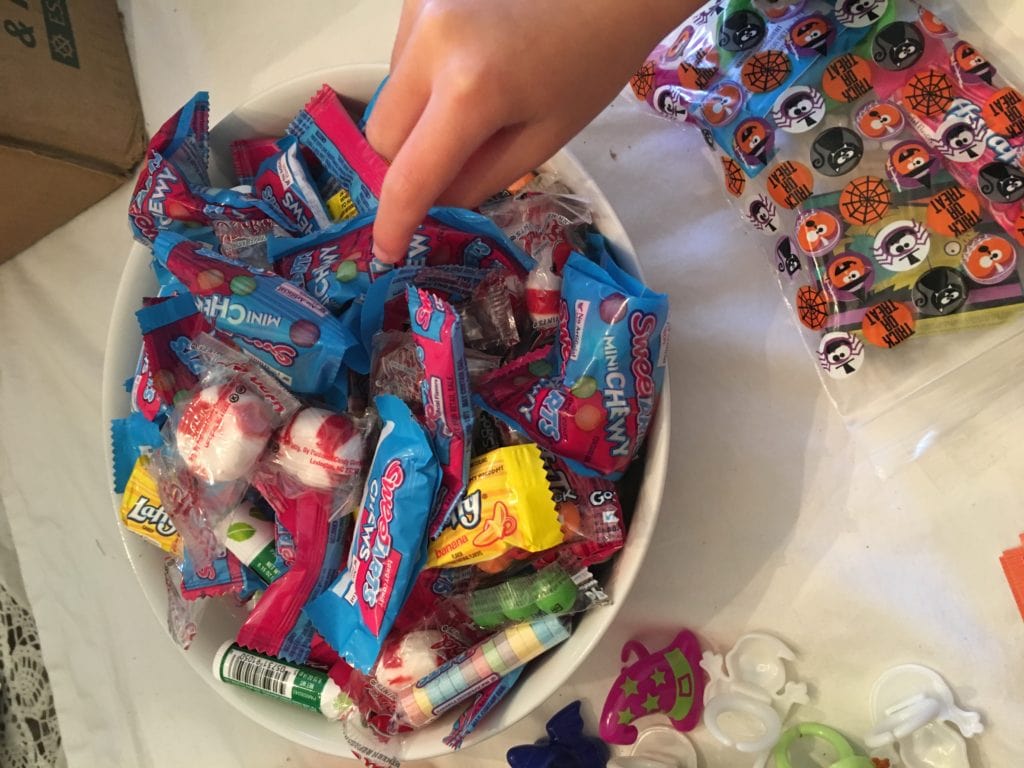 Here is the finished product. Drumroll please…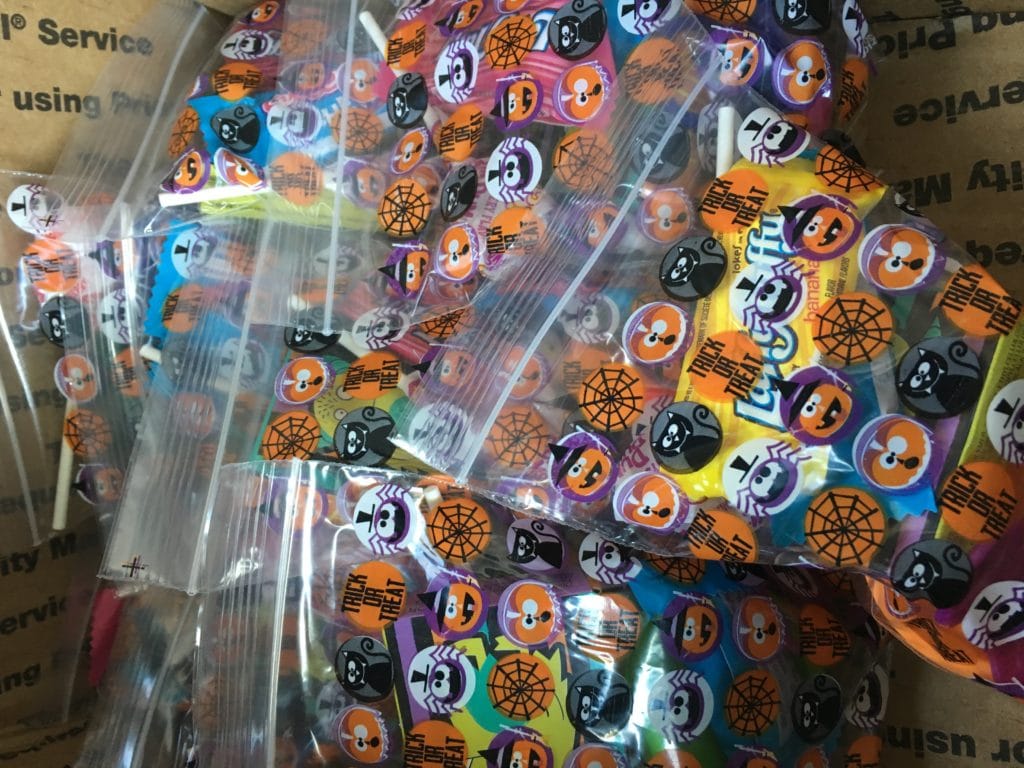 I also made 2 treat bags for my daughter's teacher and teacher's assistant with a gift card added to each one.
These Halloween treat bags are so easy to customize. I love that they can be made last minute and are perfect for my budget.
I hope you have fun making your own treat bags.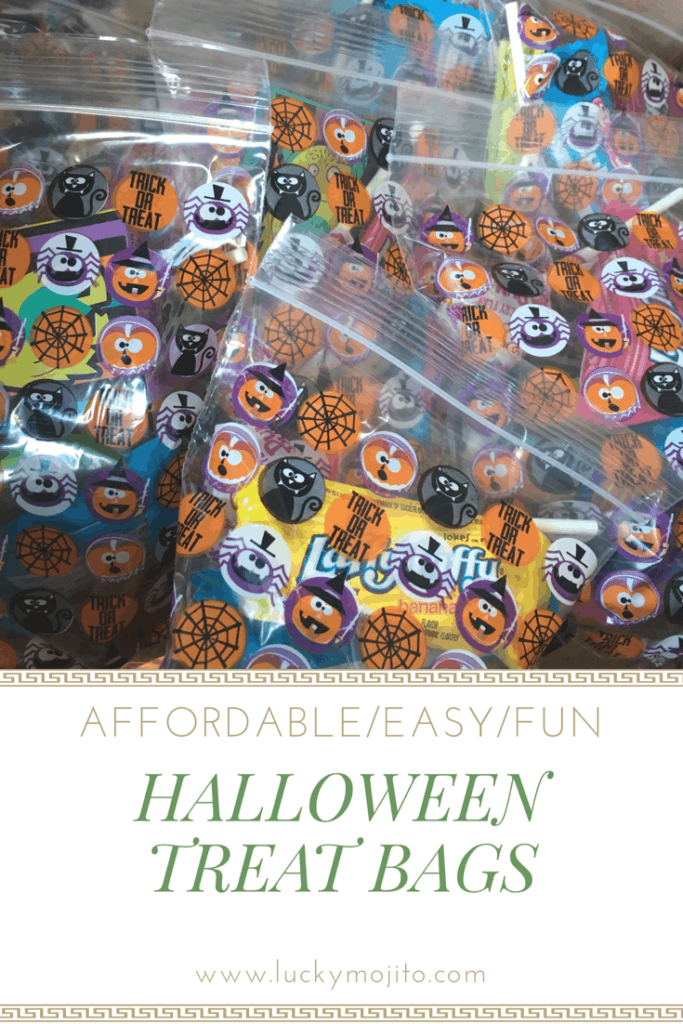 HAPPY HALLOWEEN!