*This post may contain affiliate links, which means that I may receive a commission if you make a purchase using these links.
When I thought about desserts I ever thought about sticky buns. Sticky buns weren't even on my radar. So, what changed?
Well, one day my family and I went to this flea market in Pennsylvania. At one of the indoor stands the Amish were selling baked goods. I'm a sucker for fresh baked sweets. While waiting in line I saw they had a small news article taped to the glass about their famous sticky buns. You could physically see the sticky buns coming hot out of the oven.
I decided on the pecan sticky buns. As soon as we got home we each had a slice. And another. And another.
The sticky buns were so fresh, with their delicate cinnamon swirls and bathed in a sticky glaze. The pecans provided the perfect crunch.
Since we can't buy fresh sticky buns by us I had to make them myself of course. I wanted a sticky bun recipe that was fluffy and easy to make.
Here is the sticky bun recipe I ended up making, which was inspired by Taste of Home's Caramel-Pecan Sticky Bun recipe.



In a large bowl of a stand mixer, dissolve 2-1/4 teaspoons of active dry yeast in 3/4 cup of warm milk and 3/4 cup of warm water. Wait 10-15 minutes until the yeast starts to bubble.
I like to do this step to make sure that the yeast is alive. One time I had the water too hot and killed the yeast so my bread didn't rise and another time it was expired. I can't tell you how disappointing it is to put in all the work only to end up with a flat piece of dough.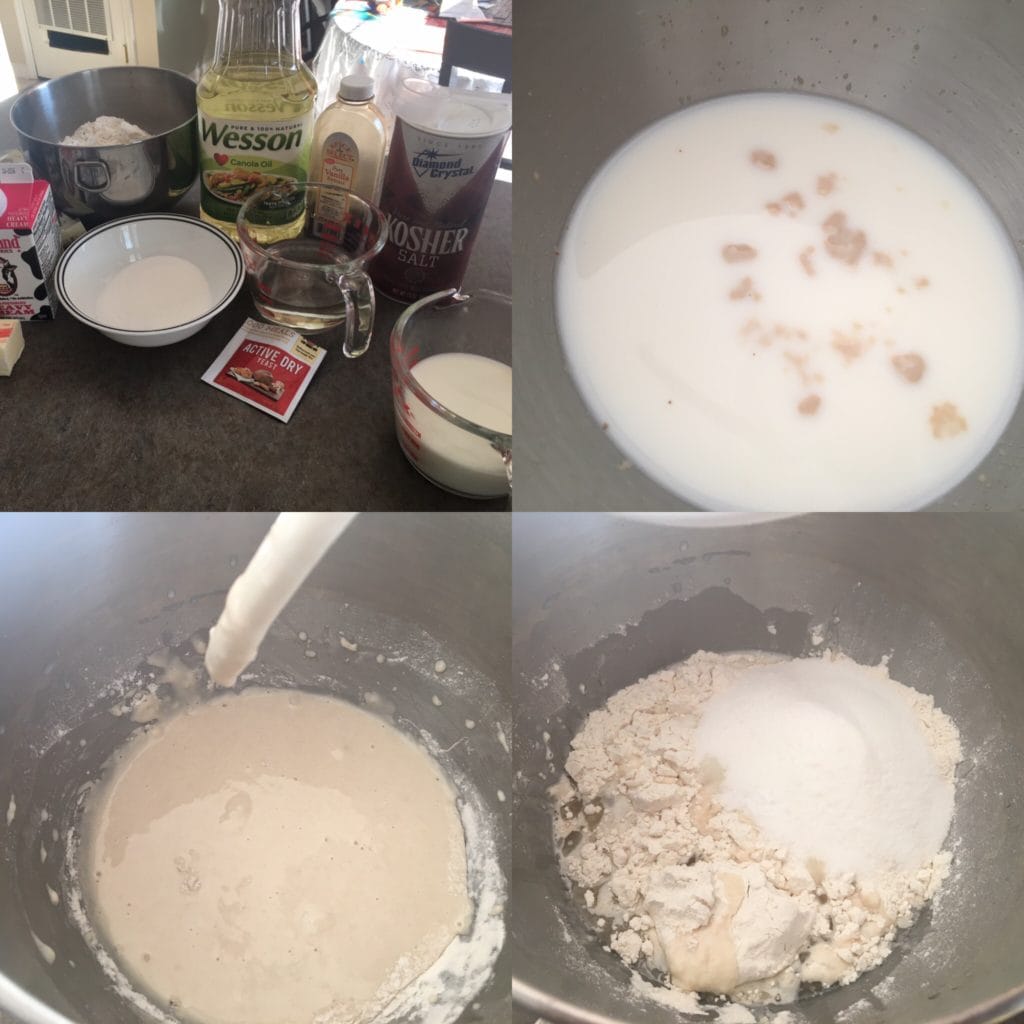 To the yeast mixture bowl add 3 tablespoons oil, 1/4 cup sugar, 2 teaspoons salt, and 1 teaspoon vanilla extract. Gradually add in sifted all-purpose flour 1/2 cup at a time, until you'd added anywhere from 3 3/4 cups to 4 1/4 cups. Stir on medium speed until a soft dough forms.
Pour the dough onto your floured counter and knead until the dough is nice and elastic. Your arms will certainly get a workout. It took me about 8 minutes.
Place the dough into a greased bowl. Cover it with a towel and place the bowl in a warm place to rise for 1 hour. I put it in my oven.
While waiting for the sticky bun dough to rise, mix the sugar and cinnamon together in a small bowl.
In another bowl mix together the brown sugar and heavy cream. Mix until combined and let the mixture sit so that the sugar can start to dissolve.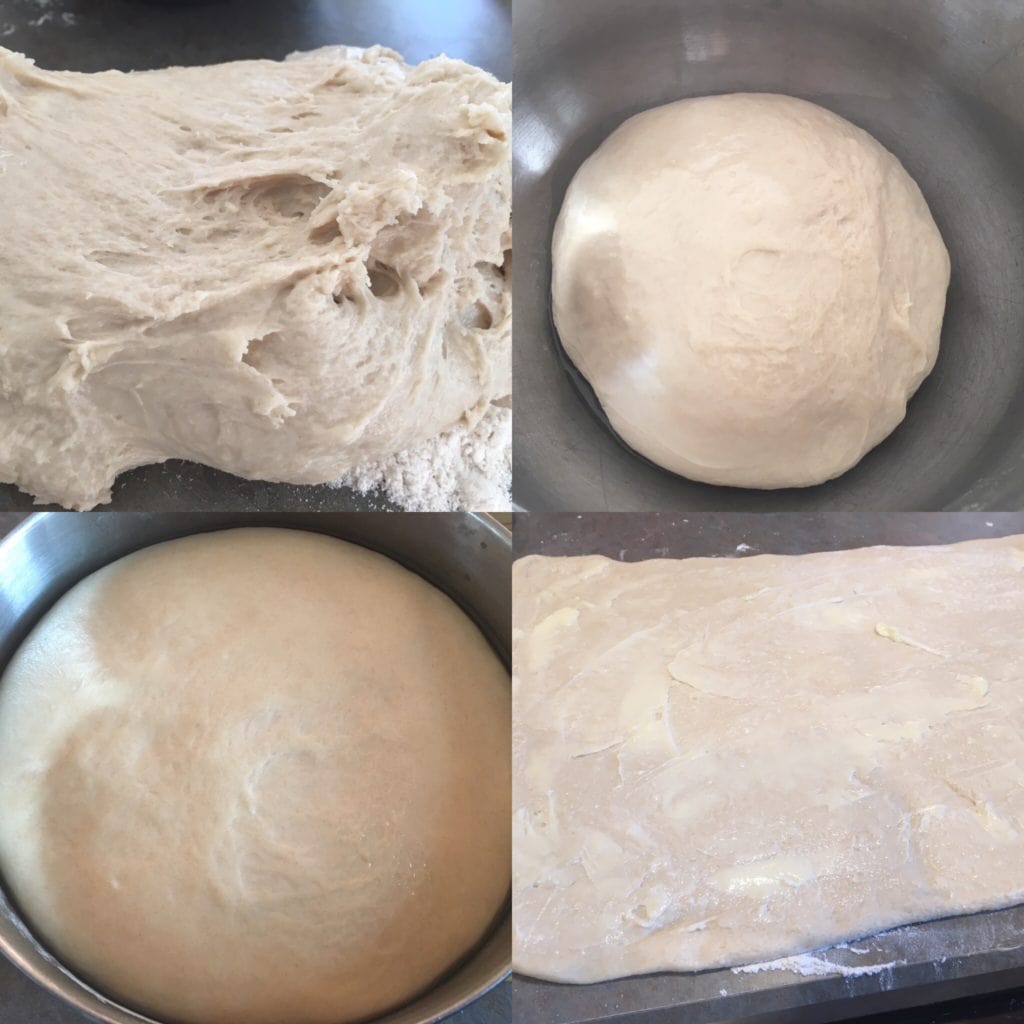 Once the dough has doubled roll it out into a large rectangle, approximately 18 inches by 12 inches. The dough will feel like an extremely soft pillow.
Spread the softened butter all over the dough. Sprinkle the cinnamon sugar all over.
From the long side of the rectangle roll up the dough tightly until it forms a log. Where the dough ends pinch the seams to close the dough.
Slice the dough into 12 rolls. Use a long piece of thread to cut through the dough. Criss-cross the thread and pull them outwards until the dough is sliced through. This creates nice slices. If you use a knife it can pinch the dough and mess up the cinnamon swirl design.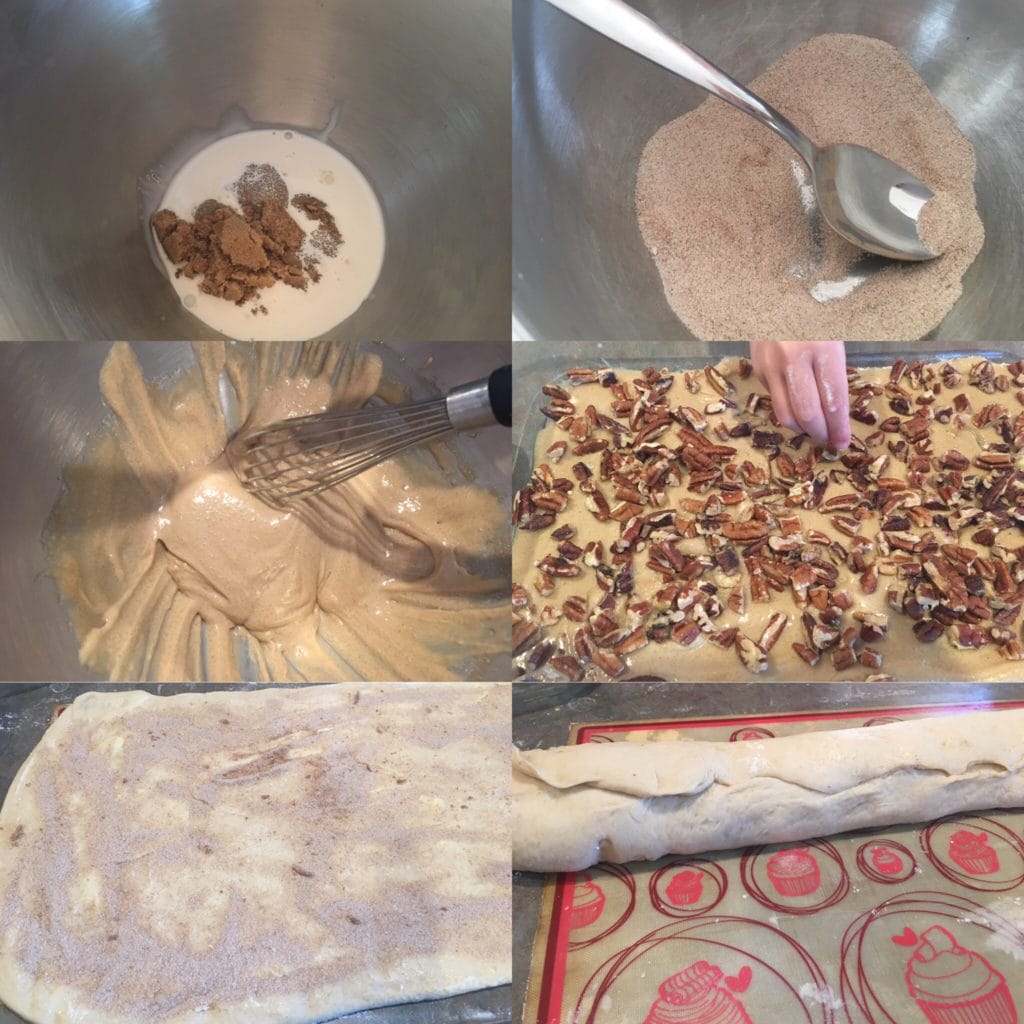 Pour the brown sugar/heavy cream mixture into a greased rectangular pan (13″ by 9″). Sprinkle the chopped pecans all over. If you don't like pecans you can use walnuts and if you don't like nuts you can skip this step altogether.
Place the rolls into the pan like I have pictured.
Let the buns rise for another hour.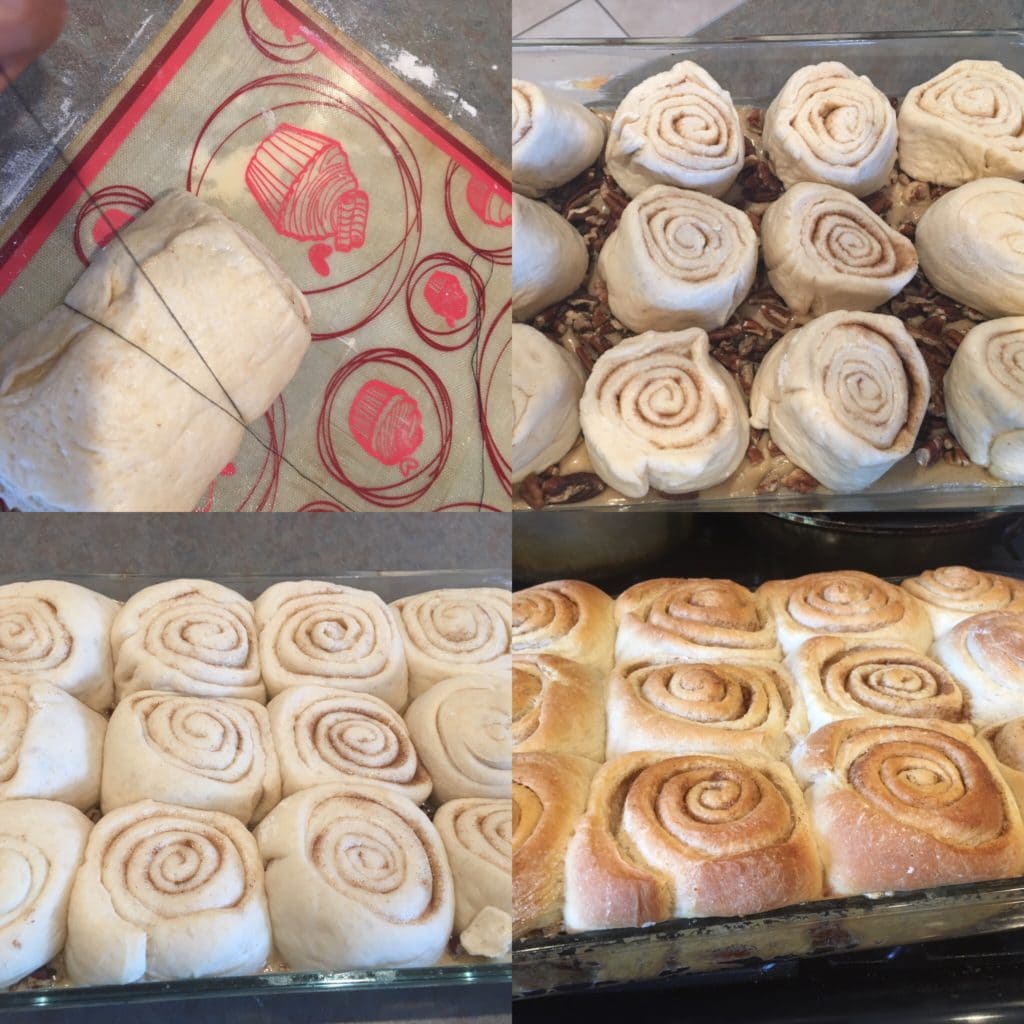 Look how they filled up the whole pan now!
Place the sticky buns into the oven preheated to 350 degrees Fahrenheit. Bake for 30 – 35 minutes until golden brown.
Take the pan out of the oven and let it sit for a minute.
Very carefully flip the pan of stick buns over onto a platter or plate with an edge so the gooey glaze doesn't go all over.
Voila!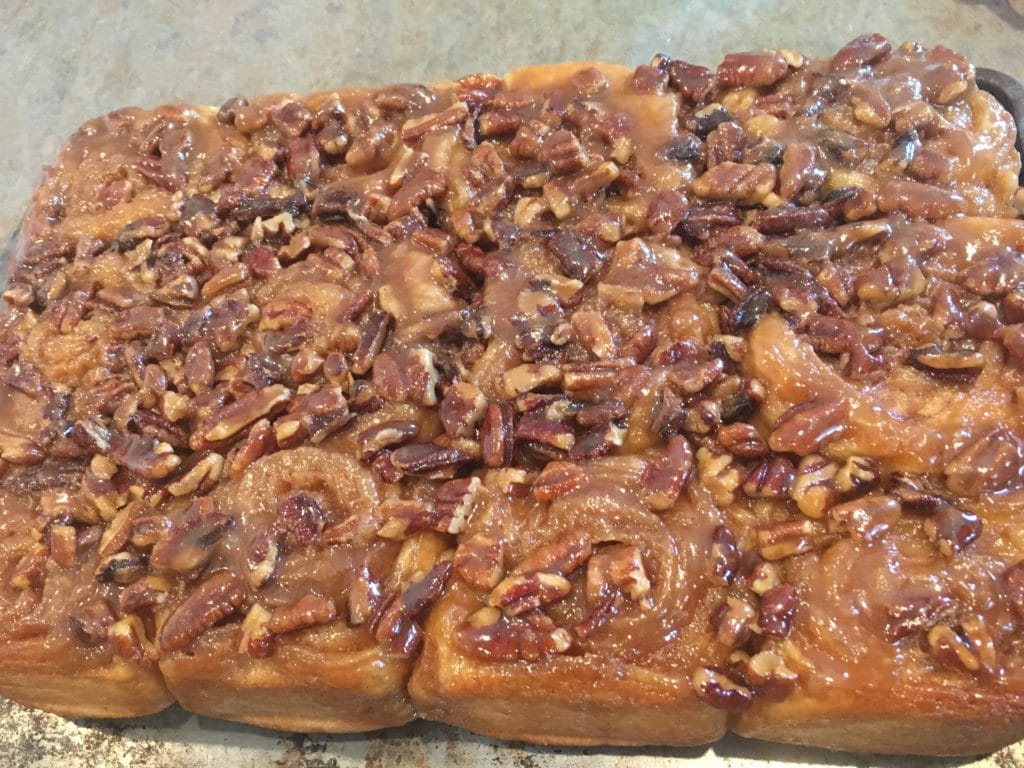 If you've never thought sticky buns were amazing this recipe will change your mind. They are delicious and perfect straight out of the oven. If you aren't eating them right away just heat them up in the microwave for a few seconds until warm.
This sticky bun recipe is perfect for dessert or to bring to brunch as they look so elegant. You can even prepare them the day before. Once you have placed the sticky buns into their gooey brown sugar bed, cover and place them in the fridge until you are ready to bake them.
INGREDIENTS
Dough
2-1/4 teaspoons active dry yeast
3/4 cup warm water (110° to 115°)
3/4 cup warm milk (110° to 115°)
3 tablespoons oil (vegetable or canola)
1/4 cup sugar
2 teaspoons salt
1 teaspoon vanilla extract
3-3/4 to 4-1/4 cups all-purpose flour, sifted
Filling
1/4 cup sugar
3 teaspoons ground cinnamon
1/4 cup butter, softened
3/4 cup packed brown sugar
1/2 cup heavy whipping cream
1 cup chopped pecans
1) In the large bowl of a stand mixer, dissolve the yeast in the warm water and warm milk. Let sit 10-15 minutes until bubbles form.
2) Add the oil, sugar, salt, vanilla extract to the yeast mixture. With the mixer at medium speed, gradually add in the flour 1/2 a cup at a time until a soft dough forms.
3) On a floured surface, knead the dough until it is elastic, approximately 8 minutes. Place the dough in a greased bowl. Cover the bowl with a towel and let it rise in a warm place for 1 hour.
4) In a small bowl, mix together the sugar and cinnamon. In another bowl, stir together the brown sugar and heavy cream.
5) Roll out the risen dough into a large rectangle approximately 18 inches by 12 inches. Spread the softened butter all over the dough. Sprinkle the cinnamon sugar mixture over the butter. From the long side of the rectangle, tightly roll up the dough to form a log. At the ends pinch the dough to seal it shut.
6) Using string, slice the dough into 12 equal sized sticky buns.
7) Pour the brown sugar/heavy cream mixture into a greased 13 inch by 9 inch pan. Sprinkle the pecans over the mixture. Gently place the sliced sticky buns into the pan.
8) Bake the sticky buns in a 350 degree Fahrenheit preheated oven for 30 – 35 minutes until golden brown. Let them sit for a minute or two then carefully turn over onto a platter/plate with an edge.
Let me know how your sticky buns come out in the comments below!