*This post may contain affiliate links, which means that I may receive a commission if you make a purchase using these links.
Drinking water is good for your health. Drinking water can help you lose weight. Drinking water can give you clearer skin.
Drinking water can be boring, but it doesn't have to be.
Infused water is a healthy and delicious way to make plain water taste better with just a few ingredients. It's the perfect alternative to soda and other sugary drinks as it is naturally sweetened/flavored.
I first had infused water over 8 years ago at a trade show I was attending for work. Our client had a stand with a water dispenser. All it had added to it was a cucumber. A cucumber! Let me tell you, that water was so refreshing and some of the best tasting water I ever had. I've been making my own infused waters ever since.
My mom HATES water. I know hate is a strong word, but it fits in this case. Her doctor told her to drink more water since she suffers from dry mouth and I swear every time I see her drink water it's like she's forcing medicine down her throat. If I make her some infused water she drinks it no problem.



INFUSED WATER INSTRUCTIONS
To start you need a container for your water. It can be a pitcher, thermos, or infuser water bottle.
Softer fruits should be left whole, while harder fruits can be sliced thin to impart the most flavor faster.
Put the ingredients (fruit, spices, vegetables) you want to infuse your water with into your container. Fill the rest of your container with cold or room temperature water. Place in the fridge and let it do its magic.
INFUSED WATER INGREDIENTS
Water: cold/room temperature water
Fruits:
berries: strawberry, blueberry, raspberry, blackberry, grape
citrus: lime, lemon, orange, grapefruit, clementine, tangerine
melons: cantaloupe, honeydew, watermelon
tropical: pomegranate, pineapple, papaya
other: apple, pear, peach, cherry, nectarine, etc.
Vegetables: cucumber (I prefer English cucumbers for infused water recipes)
Spices: cinnamon stick, ginger, rosemary, mint, jalapeno
INFUSED WATER COMBINATIONS
The infused water combinations are endless.
Here are ones that I really like:
Lemon-lime – Slices of lemon and lime
Minty lime – Muddled mint leaves and lime slices
Pineapple cinnamon – Pineapple chunks/core and a cinnamon stick
Strawberry mint – Whole strawberries and muddled mint leaves
Watermelon mint – Watermelon chunks and muddled mint leaves
Apple cinnamon – Sliced apples and 2 cinnamon sticks
Ginger lime – Little piece of crushed ginger and lime slices
Everything citrus (orange, lemon, lime) – Orange, lemon, and lime slices
Blueberry lime – Whole blueberries and lime slices
Strawberry basil – Whole strawberries and torn basil leaves



INFUSED WATER TIPS
Don't let citrus fruits stay in the infused water for too long or it will taste bitter from the pith (white part of the skin). To avoid this you can either peel the citrus beforehand or remove it from the water after soaking 3 to 4 hours.
Some fruits will get soft or look ugly if left too long in the water (strawberries and melons). Strain them from the water after a few hours. If you want your water to look pretty you can add fresh sliced fruit before serving.
Muddle/tear your spices to get the most flavor out of them.
Before drinking all your infused water you can add more water to the pitcher to get another serving or two.
My favorite infused water is with pineapple because of how much flavor it gives off. I personally just use the core of the pineapple and can get about 4 batches of infused pineapple water. If you use the edible part of the fruit it'll taste more like pineapple juice as opposed to infused water, which is also delicious.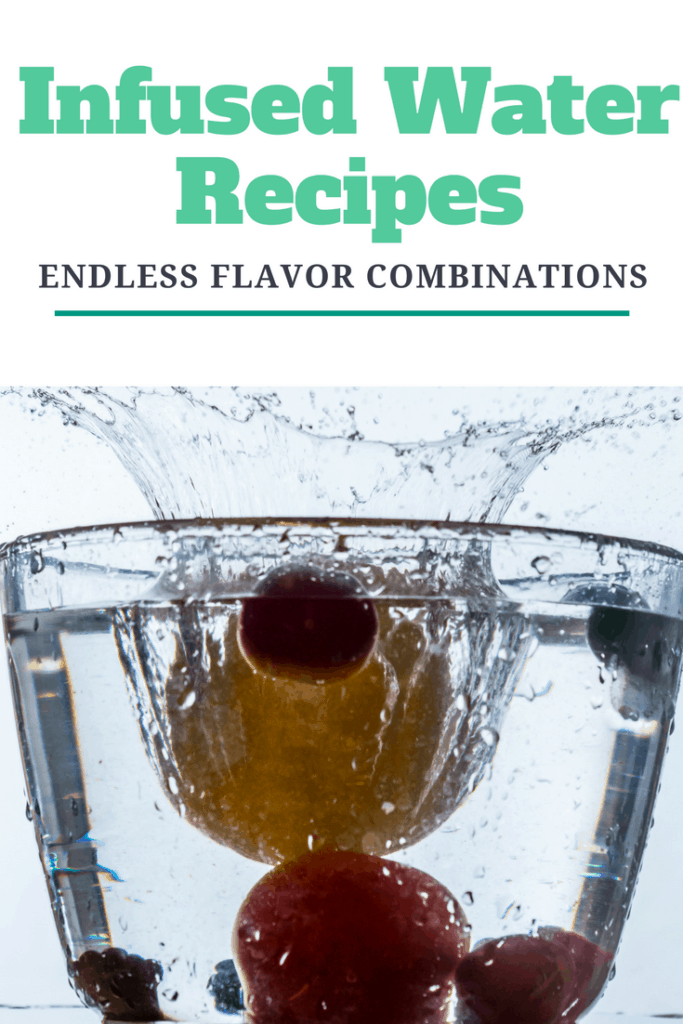 Infused water is refreshing year round. I use whatever fruits are in season at the time. For the summer I do a lot of berry based and watermelon infused water recipes and in the winter I do cinnamon, apples, and pomegranates.
Make infused water for special occasions, when you're doing a water challenge, trying to detox, or just want a healthy pick-me-up drink.
What infused water recipes are your favorite?