*This post may contain affiliate links, which means that I may receive a commission if you make a purchase using these links.
I can't believe 2017 has flown by and the new year is almost here.
Start 2018 on the right foot and don't wait until January 1st to start making your life better.



92% of people do NOT achieve their New Year's resolutions
Set yourself up with these 7 tips to make sure you are in that 8%.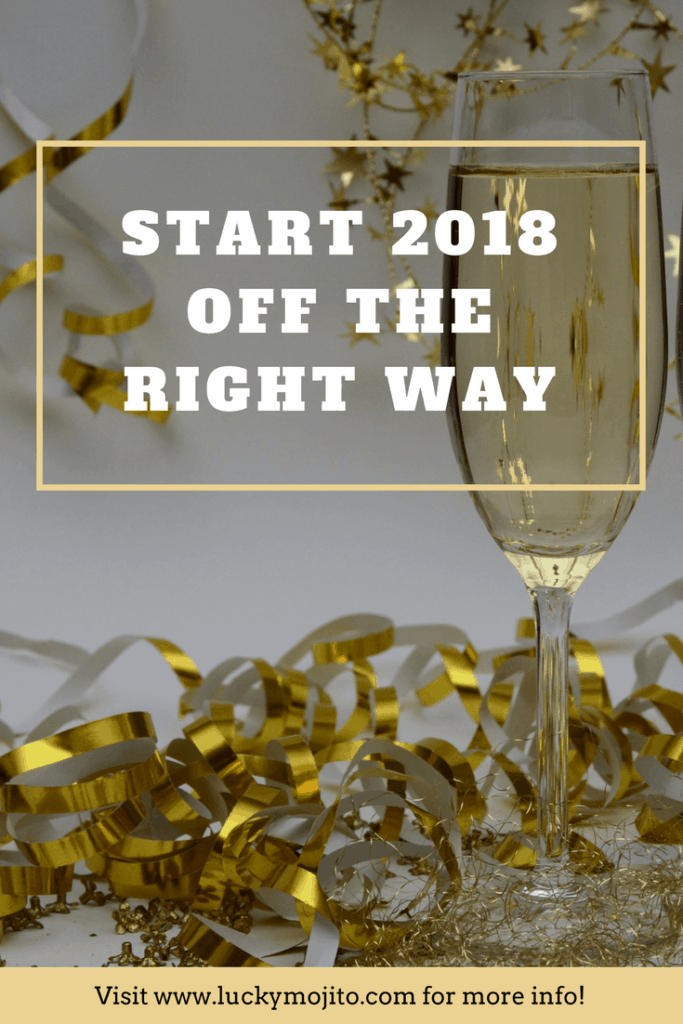 REVIEW THE YEAR
Start by thinking about your accomplishments and failures of this year. What helped you succeed? Where did you fail and why?
My family has been able to significantly cut back on our grocery bills from the beginning of the year until now and therefore have more cash to put towards our debt. We've also upped our income with some side hustles, which I'll post about soon.
We are on track to paying off all of our credit card debt and car loan by the end of this year. Eeeeee!! I'm so excited.
This year we dealt with car problems, boat/lack of boat issues (long story), and some health issues. You might not be able to avoid problems like these, but you can prepare.
GET YOUR FINANCES IN ORDER
Create a spreadsheet to look at your current debt, income, expenses, and savings.
This is where you need to evaluate long and hard. Where do you want to be at this time next year?
For 2018 I want my family to start aggressively paying off our mortgage and have a lot more money in savings.



Pay off and save what you can by the end of this year so that you can start 2018 ahead of the game.
You can consolidate your debt or do a balance transfer like we did using our Chase Freedom card so that we could avoid paying a higher interest rate for a little over a year.
HEALTH
Good health is something that many people take for granted. Losing weight, working out, and eating healthy are all popular New Year's resolutions. If this is a resolution you are planning on making start with baby steps now to ensure your success.
Cut back on sweets, incorporate a walk into your everyday routine, and drink plenty of water.
I eat refrigerator oatmeal almost every day now and have been doing this 8 minute YouTube ab workout video that's been very effective at getting rid of my "mommy pooch".
LEARN/DO SOMETHING NEW
Make it a point to learn or try something new next year that is relevant to your 2018 resolutions.
Do you want to travel more? Try learning a new language.
Do you want to lose weight? Sign up to a Zumba or kick boxing class.
Do you want to paint, dance, or cook? Check out your local recreation center for affordable classes.



Once we have some "extra" money I would like to start investing. First, I'm going to educate myself like crazy by reading The Little Book of Common Sense Investing and joining some Facebook investment groups. If anyone has other investment book recommendations please feel free to share in the comments.
SPEND TIME WITH FAMILY & FRIENDS
Schedule time to spend with people whose company you enjoy. Life can get hectic, but I've learned that we make time for what is important.
With my kids and job, I don't get to see my friends as often as I would like. They are very understanding and we get together when we can.
GOAL SETTING
What do you want to accomplish this year? Making New Year's resolutions is a fun tradition, but don't feel that you have to limit yourself to one resolution.
Write down your resolutions. Share them with your family or friends to get extra support. Make a calendar to mark off the days closer to achieving your goals.
I have a spreadsheet with all of our monthly expenses and our debt. Next year I hope to have a bigger emergency fund established and an account designated for travel.
With our small health scares this year I also plan on creating a healthier food menu for my family and incorporating exercising into our schedules.
CELEBRATE SMALL WINS/REWARD YOURSELF
Don't give up or feel deterred if you don't succeed right away. Resolutions aren't meant to be easy.
If you are working towards losing weight, treat yourself to dessert one day or a massage (or both).
Paying off our debt has been hard, but we still treat ourselves. It just means we have to be smarter when booking vacations, date nights, and recreational activities.
Life should be an ongoing adventure to improve oneself. Yes making money and losing weight are great goals, but my ultimate goal is to be healthy and stress-free.
Before the year is up I am going to revise our expense sheet, create somewhat of a schedule that includes 2 dogs, 2 kids, and a husband, and set up a goal sheet.
So, why wait until 2018 to start the year off right? What are you planning to accomplish?