*This post may contain affiliate links, which means that I may receive a commission if you make a purchase using these links.
Immediately after Christmas stores started stocking their shelves with heart shaped boxes, chocolates, and conversation hearts.
Valentine's Day is supposed to be an extra special day to celebrate your loved ones. That could mean spending a lot of money, but it doesn't have to.



This year, if you're like me and can't really afford to spend too much on a Valentine's Day gift look into these cheap/free Valentine's Day gift ideas.
However, if you have some cash back money and survey gift codes to spend, here is the perfect Valentine's Day Gift guide for 2018.
Unlike the majority of Valentine's Day gift guides, I include a bunch of gifts that are under $100 so you don't have to bust your budget.
GIFTS FOR HER UNDER $25
1) Expandable Bangle With Inspirational Quote
Jewelry is always on every Valentine's Day gift guide. It doesn't have to be gold or silver if it's not in your budget. This alloy bangle is so cute. I love the quote on it. It says "You are braver than you believe, stronger than you seem, and smarter than you think".
I feel like lingerie can be a gift for both the person receiving the gift and the person giving the gift. It doesn't need to be anything too risqué unless you want it to be 😉
3) Floral Robe
This floral robe is so elegant and sexy. Not just for Valentine's Day, but great for a fun night in or a day of pampering.
GIFTS FOR HIM UNDER $25
Guys deserve some pampering every now and then too. These razors are an old-school take on grooming and have thousands of positive reviews to back them up.
If you're special one is into music or working out wireless headphones are a great Valentine's Day gift. Get ones that are sweat-proof and noise cancelling.
Get your Valentine custom cufflinks. You can get one's with their initials or one's that reflect one of their interests. The options are endless. Music, hunting, fishing, animals, sports, etc.
GIFTS FOR HER UNDER $50
1) Designer Satchel Purse with Matching Wallet
A purse/bag for Valentine's Day is a good gift if you know the person's style because there are so many colors and designs to choose from. This satchel purse comes in different materials and each has a matching wallet to go with it.
If you're going to get flowers don't be cheap. What I mean is don't get cheap looking flowers. You can go to a local florist and tell them how much you're looking to spend and they can make up a fresh bouquet to fit your budget. Do NOT buy premade if you can avoid it. I have a florist by me that is cheaper than the supermarket flowers and much nicer looking. I've also used Groupon and they always have promo codes for Valentine's Day.
I love chocolate. As a chocolate expert I know expensive doesn't necessarily mean better. If you don't want to make your own chocolates, buy your Valentine their favorite assortment. My hubby buys me boozy bon bons from the chocolate spot by our house. They are a little pricey, which is good because I'd probably buy them all the time if they were cheaper.
GIFTS FOR HIM UNDER $50
1) RFID Wallet
This leather wallet protects your credit card information from being unknowingly scanned/stolen. It's a sleek bi-fold wallet that comes with a lifetime warranty.
2) Back, Neck, Shoulder Pillow Massager
This pillow can give your Valentine a HEATED back, neck, or shoulder massage. You might want to steal it for yourself.
We have an Amazon fire stick at our house. It's a streaming media player than gives you access to thousands of channels, movies, and apps. Our kids love watching original Netflix series and shows on Amazon Prime.
GIFTS FOR HER OVER $50
This gift basket has everything she'll need to pamper herself at home. Lotion, body spray, salts, shower gel, etc.
2) Red Kitchen Aid Stand Mixer
My husband doesn't think a husband should buy his wife an appliance as a gift, ever. I disagree. I could see not giving a vacuum cleaner or toaster, but a stand mixer for someone who loves baking is one of the best gifts ever. The red stand mixer is a nice added touch for Valentine's Day.
3) Instant Pot
My sister got this for me for Christmas and I love it. It's a programmable pressure cooker, slow cooker, rice cooker, yogurt maker, steamer, food warmer, and sauté-er (if that's a word). I'm still trying out all of the functions, but it's a great time saver and good for making healthy meals fast.
GIFTS FOR HIM OVER $50
1) Masterbuilt 30″ Electric Smoker
This is the exact smoker I bought for my husband and we both love using it. We've made smoked chicken, salmon, and fall off the bone ribs. It's the gift that keeps on giving.
2) Smart Watch
I'm not a health freak or work out person, but I love my smart watch. It lets me check my text messages discreetly at work and keep track of my steps each day.
This is like a grown man's science kit. It comes with everything needed to make beer at home this minute.
Lots of Valentine's Day gift guides only include gifts for her or him. Don't forget the kids.
GIFTS FOR KIDS
I've already bought this 3 times for kids of different ages and they each loved these blocks. You can make a spinning Ferris wheel, cars, animals, buildings. It even has letter and number blocks.
Both my son and daughter love pretending to clean the floors. Start them young! Just watch out they don't dunk the mop into the dog's water bowl. I speak from experience.
3) Science Kit
I like educational toys like this science kit because it's fun for adults too.
My older sister doesn't have kids. So of course being the cool aunt she buys my kids the loudest/biggest gifts. My husband and I can't wait for her to have kids lol
The good thing about this gift is it keeps them "contained" and tires them out from all the jumping around.
Hope this Valentine's Day gift guide gives you inspiration to get the best gift for your Valentine while staying within your budget.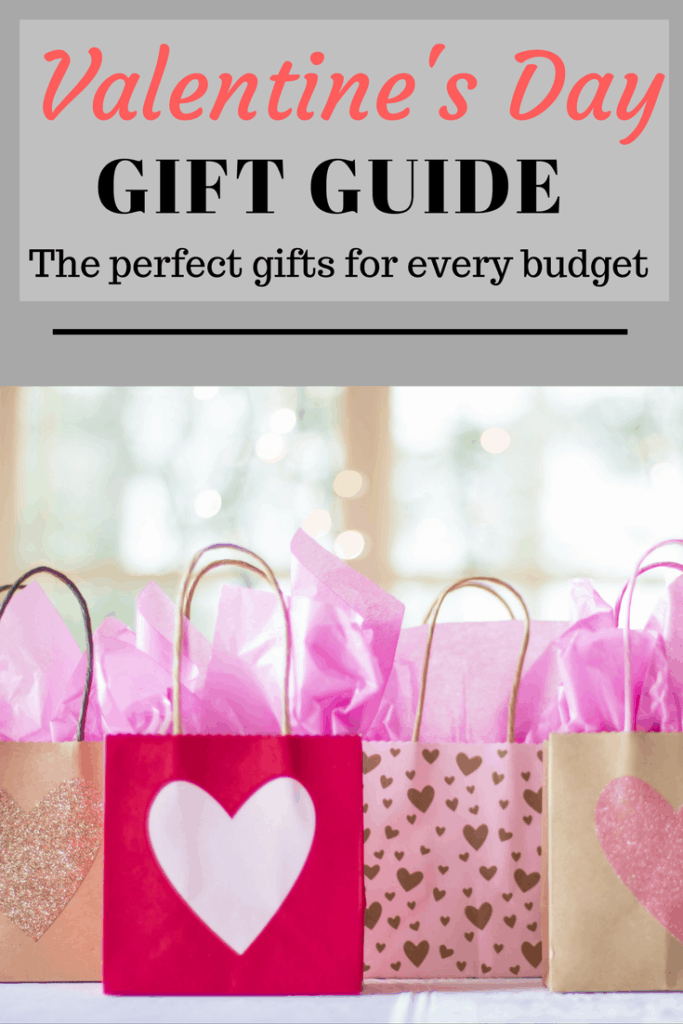 If you have any other Valentine's Day gift suggestions that are budget-friendly feel free to share.