*This post may contain affiliate links, which means that I may receive a commission if you make a purchase using these links.
Nothing can bust your budget and incur debt faster than a spur of the moment expense. This can be the result of unexpected car troubles, medical bills, or home repairs. What it shouldn't be from is holiday gift shopping.
Like the majority of most people I tend to wait until the last minute to start my holiday gift shopping. This results in fighting for a parking spot and making not very well planned or expensive gift purchases.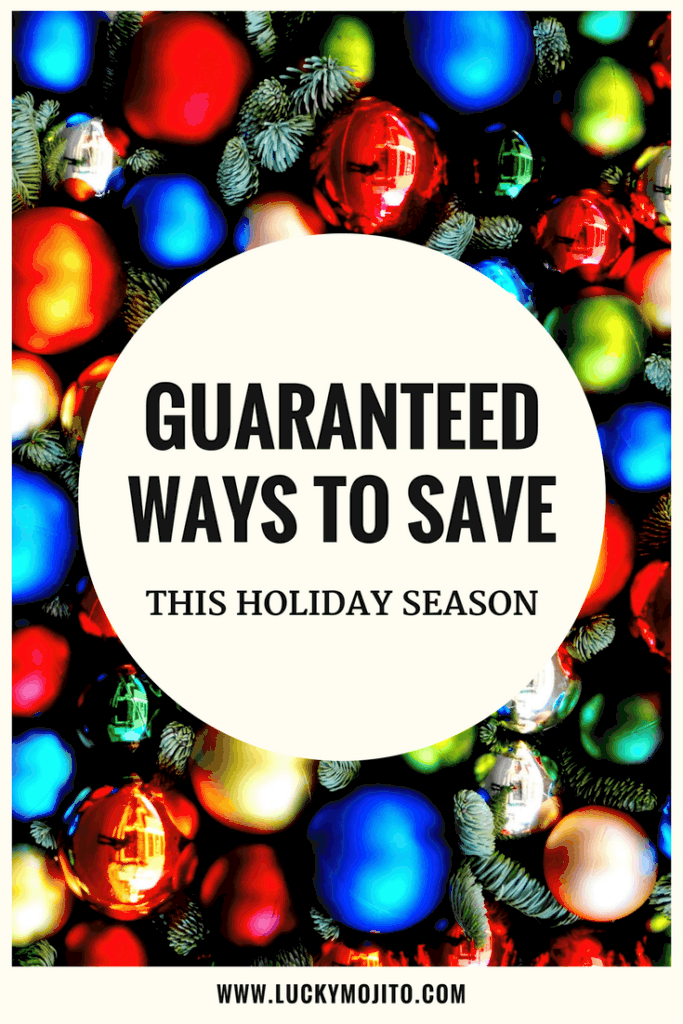 Last year I was able to significantly cut down my gift spending.
With the holidays fast approaching here are my "secrets" for more savings and less headaches.
Planning
Make a list of all of the people you want to get gifts for this holiday season. Yes, it'll include family and friends, but don't forget pets, teachers, coworkers, service providers, neighbors, and whoever else you would like to get gifts for. Nothing is worse than having to scramble last minute or get caught empty-handed.
Whenever you figure out what you want to get that person write it down next to their name, even if you aren't sure. I have this stored as a note in my phone and add to it throughout the year, but you don't have to do this so far in advance, but it helps when you hear someone happen to mention that there's something they would really like for themselves.
Gift Cards
Some people are impossible to get gifts for and the best thing you can think to get them is a gift card. If you use eBates (100% FREE and get a $10 sign on bonus right now) along with GiftCardMall.com or Raise.com and you will get gift cards at LESS than full price.
e.g. If you want to buy a $50 Olive Garden gift card you get 1% cash back from eBates and 8.1% off from Raise. You'll save about $4.50 on the gift card.
If you have a lot of gift cards to buy this amount can add up very quickly. Also check your local warehouse store. At Costco you can get a bunch of restaurant gift cards at a discounted price. E.g. Buy two $50 gift cards for McCormick & Schmick's for $80, which is a $20 savings.
Online Shopping
As I've mentioned here, eBates is a great way to get cash back on your online purchases. If you do ANY online shopping check eBates for extra discounts and promo codes before you make your purchase. It really is FREE money. I know I know, my dad always told me nothing is free…but this is.
Keep an eye out for Black Friday and faux Black Friday sales. With the internet and Google, it's so much easier to shop around and compare prices. Some sites will even offer an extra coupon discount if you sign up to their mailing list.



Secret Santa
If you have a big family or group of friends, think about doing a Secret Santa a.k.a. group exchange. If you aren't familiar, this is a gift exchange where you draw names out of a hat and get a gift for one person out of the group as opposed to a gift for each person in the group. You can even set a maximum price point.
I know someone who does this every year with their family and they make the price point a little higher than what they would normally spend on each family member. This way instead of getting a bunch of small gifts everyone can get one big, really good gift.
Think about it this way, if you have 15 people in the group and plan on spending $25 a person, you would be spending a total of $350 (not including yourself). If you make the maximum price point $200 you would still be saving $150!
Drawnames.com is a free website to organize your gift exchange. It makes sure no one pulls their own name. You can also make sure certain matches don't occur like if you don't want to get the same person as the previous year. It also allows each person to create their own wish list.
Baked/Homemade/Gift Bags
See my gift bags tutorial for ideas on how to create individual gift bags at an affordable price. These gifts are great for a big group like your coworkers or neighbors. They are also great to have around in case someone you weren't expecting stops by with a gift.
This year for the holidays I'm thinking about doing gift bags for my coworkers with coffee, tea, and hot chocolate K-cups and some sweets.
Making or baking your own gifts are great if you are on a tighter budget. I've seen people make their own soaps, knitted/crocheted gifts, cookies, and chocolates. It's all about the presentation and effort you put into each of these gifts that'll make them look extra special.
Gift of "Giving"
This is an idea I only recently read about on another blog and it will cost you ZERO money. That's right NO money, just time. Offer to clean someone's house, babysit for them, cook dinner, or run some errands. Get creative and offer a service of something you are good at. These are gifts that I know I would love. *hint hint*



Alcohol/Lottery Tickets
Alcohol is an easy gift to buy in bulk and wrap for the holidays. They even have special holiday bottles.
I know I sound like a broken record, but if you want to buy wine go to eBates (6% cash back) and then Groupon. If you buy this groupon you will get 15 bottles of premium wine, $50 off a $75 gift voucher and a free corkscrew for $55. With the 6% savings and Groupon this means you will be paying only $5.45 a bottle (I've included the price of shipping).
Break up the pack of 15 wines into 15 individual gifts or give all 15 wines to one person. I know that person will love you for it 😉
Lottery tickets are a simple gift that you can buy a bunch of and put into a stocking. You won't get discounts buying them, but you'll save money if you spend less that if you were to buy a gift.
Method of Payment
Last year I was able to accumulate over $400 in Amazon and other miscellaneous gift cards from MyPoints, PaidViewpoint, Crowdtap, Pinecone Research, and other survey communities. I saved up all of my codes to use on my holiday gift shopping.
Using my accumulated gift cards I was able to save a lot of money AND I was also able to splurge on some gifts and not feel guilty about breaking the bank.
I try to pay for everything with my credit cards that offer the highest cash back.
My Chase Freedom card is currently offering 5% back at Walmart and department stores this quarter so I'll make sure to use that card when doing holiday shopping from them.
Some years I've Christmas shopped throughout the year and my wallet benefited greatly. Here are the best things to buy right after Christmas if you want to save money.
Christmas is about 5 weeks away! So, if you haven't started thinking about your holiday gift shopping NOW is the time.
1) Write down the people you are going to get gifts for and what you want to get them.
2) Do your research and compare prices of the gifts you want to buy. Use eBates, look up promo codes, sign up to mailing lists, and keep an eye out for extra savings. You can even ask friends and FB groups for coupons to stores you're looking to shop at.
3) Buy gift cards at less than full price at your local warehouse or online.
4) Plan your Secret Santa/group gift exchanges.
5) Make, bake, or create your holiday gifts.
6) Give the gift of "giving such as house household errands, cooking, cleaning, etc.
7) BOOZE and gambling are always a crowdpleaser.
Share the ways you save money on your holiday shopping in the comments below. I didn't have as much time to earn gift codes this year (see "bad babies" lol) so any new ideas to not break the bank are appreciated.