*This post may contain affiliate links, which means that I may receive a commission if you make a purchase using these links.
We are so close to being debt-free I can see it. According to my calculations, by the end of December/early January we will have all of our short-term debts paid off.
Now I know I might be counting my chickens before they hatch, but once we are debt-free I want to stay that way. Foreverrrrrr….
Therefore I came up with a bunch of tips that can be used to get out of debt, but also good for avoiding going back into debt.
BUILD AN EMERGENCY FUND
When we went into debt two years ago we barely had any savings. The little savings we did have was in our daughter's "college" fund and the rest was used for a down payment on our new home.
The amount you should have in your emergency fund should cover about 3 to 6 months worth of expenses.
In the event of an emergency, such as a sickness or job loss, these funds can be used to cover your expenses. Once you are able to you will then replenish the emergency fund for the future.
EARN MORE MONEY
I have revisited our expenses more times than I care to admit these past two years. We cut back on our cable, groceries, heating, and eating out.
No matter how much you cut back you can only save so much by earning cash back
and taking surveys.
This year we sold our unwanted items at a thrift store, bought and resold items on Craigslist and eBay, and recently started pushing sales on Amazon and Facebook.
Having multiple avenues of income means having more cash to pay off debts faster. Once we are debt-free and have a sizeable emergency fund we'll save our extra cash for vacations and investments.
ENVELOPE SYSTEM VS CREDIT CARDS
I enjoy paying for everything I can with our credit cards to earn cash back and points for vacation. Our Chase Freedom card gives us 5% cash back on select categories each quarter and if you sign up here you get a $150 sign-on bonus after spending $500 within the first 3 months of opening it.
However, I think our credit card usage has played a small part in us going into debt. It's so easy to just swipe a card and not think about where the money to pay for these things is coming from until the end of the month when the bill is due.



To avoid going back into debt I am going to implement the envelope system. Each month you have labeled envelopes for different expenses (e.g. groceries, household, eating out, entertainment, etc.) Inside each envelope you put the cash you want to spend on that category for the month. If you run out of cash you are out of luck. If you don't use it all by the end of the month you can either reward yourself, put the extra into savings, or carry it over for the following month.
I will still use credit cards, but only for recurring bills that are the same each month such as our phone bill, E-ZPass, and gas (only because we get 3% cash back when we use our American Express card).
AVOID OLD SPENDING HABITS
Seeing our savings account build up in the past made us prone to making spontaneous and/or unnecessary purchases. We tend to eat out more frequently when our savings goes up so it hasn't had the chance to grow.
To avoid going back to our old spending habits I will have a set amount designated for "fun" spending each month. This way we can reward ourselves for finally being debt-free, but also save save save so we stay out of debt.
We love to travel and whenever we book a cruise we put a deposit down and have a few months to pay it off with our credit card. This time around I will only do that if our vacation fund can pay off the amount in full.
OPEN MULTIPLE SAVINGS ACCOUNTS
One tip I was given a long time ago that helped me save money is having multiple savings accounts designated for something in particular. I have an account for our mortgage, our monthly expenses, our children, and general savings. The logic is that you won't see all the money in one spot and mistakenly think you're rich and go on a shopping spree (no worries about that here lol).
If you name your accounts (such as vacation or kids) you will also think before you withdraw. I'd feel guilty taking money out of my kid's accounts even in an emergency. Luckily I haven't had to.
Once we are debt-free I'd like to divide our savings account to fund vacations, investments, and entertainment.
You can open separate accounts, but some banks give the option of creating subdivisions within one account so do your research.
BUDGET/REVIEW SPENDING
My husband hates the word budget. Since being married to me he still hates the word. Like most Americans, he thought debt was normal.
Having a budget doesn't have to feel restraining. I wouldn't mind a budget, but my husband would, so as a compromise we have what I call a loose budget. This means we try to stay within a certain range of spending each month, but don't go crazy if we occasionally go over that budget.
I have my Excel worksheet that I have been using for years that I update every few months. There are apps and programs that can link to all of your accounts and help you stay on track of your budget goals too.
Once out of debt you should still make it a habit to review your expenses every so often. We review every month to make sure our credit card was charged properly, if we missed anything, or if we need to cut back on certain types of spending.



We currently have a small emergency fund building up and will go over our finances again when everything has been paid off. We will come up with our savings goals, start using the envelope system to trick my husband into budgeting a little better, continue making a side income, avoid old spending habits, and open up additional savings account categories.
The next step is to come up with a plan to tackle our mortgage.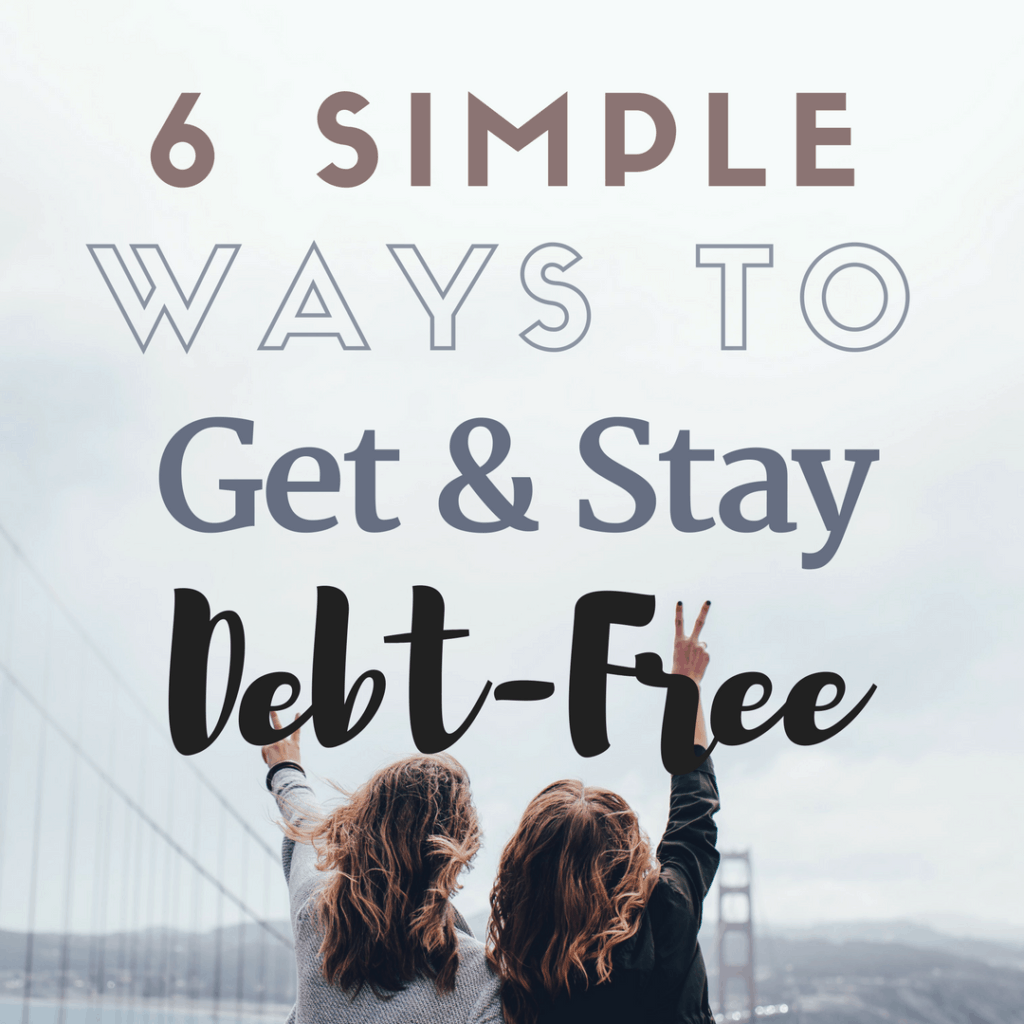 If you're reading this I hope that you are either A) out of debt and want to stay that way *high five* or B) trying to get out of debt and educating yourself with some new tips.
Let's get debt-free and stay that way together. Are you using any other ways you'd like to share with us? Comment below 🙂